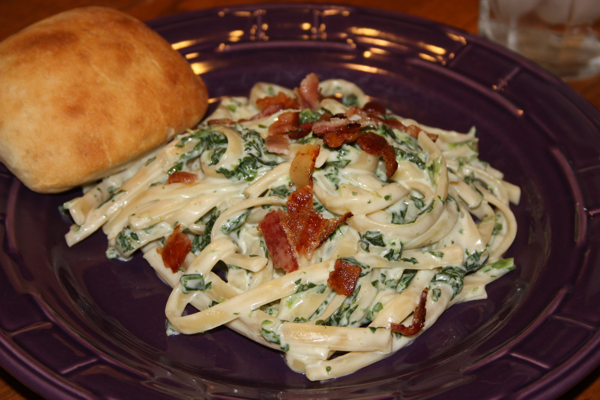 Spinach is one of the vegetables that I can almost always count on my children eating. They love it in green smoothies and are good about eating it in most dishes where it blends in easily. This pasta is one of those recipes. I found this recipe in a Cooking Light magazine many years ago and have used it quite often.
I have always loved fettuccine Alfredo, but know that it isn't the most healthy pasta dish for me. This pasta has been lightened quite a bit from the original and it is a great treat on occasion. I get all of the flavor of my beloved fettuccine alfredo with a lot less guilt–not to mention the spinach. While it isn't on the menu every week, it is a great lighter version of the original and quite tasty. On the plus side both boys really love it and it helps fill them up after all the exercise they get playing soccer. There are times that I don't think I will ever fill them up after they have been working so hard. Too many times as I am heading downstairs after cleaning up from a meal I will hear one of the boys say "Can I have a snack?" I wonder how can they still be hungry after just eating? The crazy thing to think about is how much they will eat when they become teenagers.  I guess we will find out if you can double this recipe…
Spinach Fettuccine
Printer Friendly Recipe
Ingredients:
1 pound uncooked fettuccine
1 tablespoon butter
1 garlic clove, minced
1/4 cup (2 ounces) 1/3-less-fat cream cheese
3/4 cup chicken broth
3 tablespoons all-purpose flour
3/4 cup (3 ounces) grated fresh pecorino Romano cheese
3/4 cup half-and-half
1 teaspoon salt
1/2 teaspoon freshly ground black pepper
1 (10-ounce) package frozen chopped spinach, thawed, drained, and squeezed dry
10 center-cut bacon slices, cooked and crumbled (about 1 1/4 cups)
Directions:
Cook pasta according to package instructions. Drain pasta, reserving 1/2 cup pasta water.
Melt butter in a large nonstick skillet over medium-high heat. Add garlic; sauté 30 seconds. Add reserved pasta water and cream cheese, stirring with a whisk until smooth.
Combine broth and flour in a small bowl, stirring with a whisk until smooth. Add flour mixture to pan, stirring with a whisk to combine; bring to a boil. Cook 2 minutes or until mixture thickens, stirring constantly. Remove from heat; add pecorino Romano, stirring until smooth. Add half-and-half, salt, and pepper. Stir in spinach. Combine cheese mixture and pasta in a large bowl, tossing to coat. Garnish with bacon.