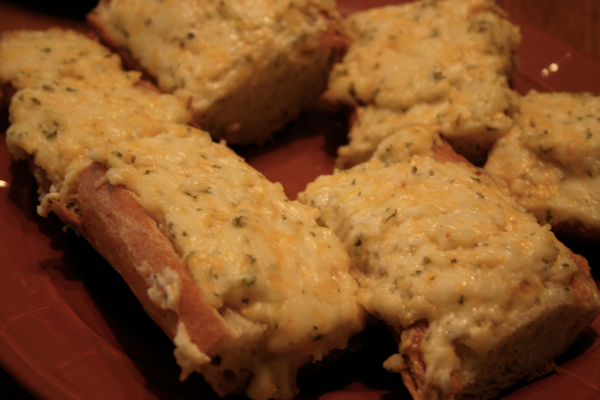 I'm eagerly anticipating the day when the boys will eat a salad as the main course for supper. I'm sure there are lots of salad haters out there (and my boys are part of that group). However, I think a salad is a perfectly good meal on hot summer days. I've already converted my husband and he will eat a salad for supper. Now I just need to figure out how to get the boys to eat salad. At any rate, there are times when you still want something to indulge your taste buds in addition to a delicious salad. This cheese bread is an excellent way to indulge.
This bread is a special treat at our house. The first time we had it was at a large family gathering where salad was the main dish. I think it perfectly compliments a nice dinner salad. Over the last few weeks with the temperature still hotter than I like, I keep finding myself wishing I had already taught the boys to enjoy salads. It would definitely make dinner time easier.
So if you are looking for something a little sinful to add to your meal here you go. You won't feel so guilty about indulging if you keep the rest of your meal light, but regardless it makes a yummy treat on occasion.
Cheese Bread
Printer Friendly Recipe
Ingredients:
1 loaf of french or italian bread
8 ounces of shredded cheese (I like colby jack.)
3/4 cup mayonnaise
1-2 tablespoons chopped parsley
1 garlic clove, minced
Directions:
Slice the bread in half lengthwise.
In a medium bowl, combine the cheese, mayonnaise, parsley, and garlic stirring to combine. Stir until you have the cheese mixture well combined. Splitting the cheese mixture between the two bread halves, spread the mixture on the cut side of the bread. Place on a baking sheet and bake in a 375 degree oven and bake until the cheese is melted and bubbly. Once it has finished baking, let cool for a couple of minutes and then cut into individual pieces for serving.