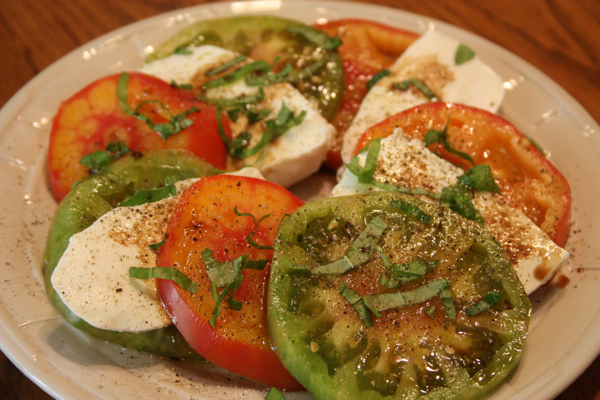 I don't know about the weather at your house, but here in Kansas City it has been too hot. We have had excessive heat warnings for almost 2 weeks now. With all the heat, sometimes for dinner all I want is something cold. This salad paired with some fresh bread for supper and I am all set.
We have been getting lots of Roma tomatoes out of our garden and they are delicious, but this salad was made with some heirloom tomatoes that I got from my CSA (Community Sponsored Agriculture) box. Don't worry, the green tomato is suppose to be green and it was ripe. (If you haven't tried heirloom tomatoes you owe it to yourself to try them. They have a flavor far superior to the mass produced tomatoes you find in the grocery store.)
So when the heat gets the best of you, try making this salad for dinner. It is very satisfying and a great way to use all of those wonderful tomatoes that are in season now.
Caprese Salad
Ingredients:
tomatoes
fresh mozzarella
fresh basil
salt
pepper
olive oil
balsamic vinegar
Directions:
Slice the tomatoes and mozzarella. Layer the tomatoes and mozzarella cheese alternating them on a plate. Chop the basil and sprinkle over top of the mozzarella and tomatoes. Drizzle with balsamic vinegar and olive oil. Add salt and pepper to taste. Enjoy!