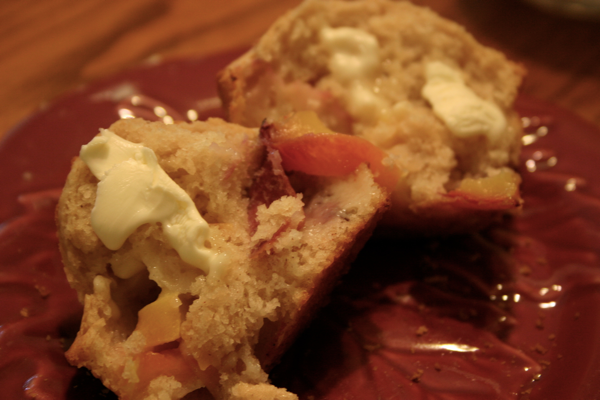 I have returned from a fabulous vacation to Hilton Head Island, South Carolina. Thank you for being patient with me as I was delinquent on my blogging. I was having way to much fun relaxing and spending time with family. We all had a blast and a much needed break from the hustle and bustle of our lives. (I will be sharing some of our adventures in the upcoming posts.)
As we were heading off the island toward Savannah, I knew we needed to pick up some peaches. I love fresh peaches and ate them almost everyday while at the beach. I was so spoiled by the freshness of them that I bought a case to bring home. (Let me just say I hope you like peaches as much as we do because there will be lots of peach recipes coming your way.) I am sure I will end up freezing some as well so that I can enjoy them in pies in the winter.
To start our many peach recipes to come here is a family favorite muffin that I inherited from Beth (my mother-in-law). The muffins are delicious and you don't even have to peel the peaches which is an added bonus. (Trust me on this.) We love to serve these for breakfast but they are also quite delicious served with dinner as a fun treat.
Peach Muffins
Printer Friendly Recipe
Yield: 12 -15 muffins
Ingredients:
1 egg
1 cup milk
¼ cup canola oil
⅔ cup sugar
½ teaspoon salt
¼ teaspoon cinnamon
1 teaspoon lemon juice
½ teaspoon vanilla
2 cups flour
3 teaspoons baking powder
1 cup unpeeled, chopped peaches
Directions:
Beat egg; stir in milk, oil, sugar, vanilla, salt, cinnamon and lemon juice. Sift or stir together flour and baking powder. Stir into milk mixture until just blended. Do not over mix! Fold in peaches. Fill greased muffin cups ⅔ full. Bake at 400 degrees for 20-25 minutes.