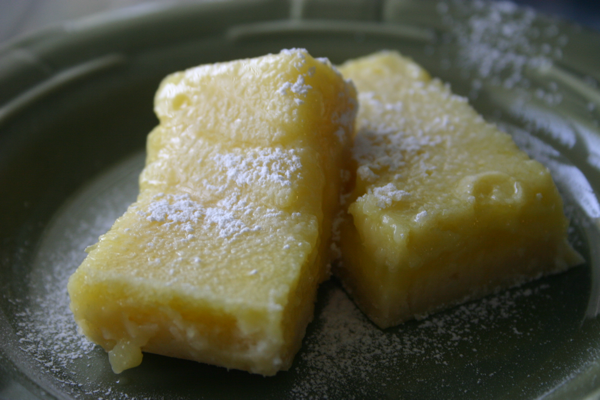 If you are still looking for a refreshing treat for your July 4th festivities, here it is! I love to make these lemon bars during the summertime because they are cool and tart.  On a hot day, these lemon bars are the desert equivalent of a tall cool glass of lemonade.
I was happy to make these for my nephew Austin when he requested them as a treat during my visit this past week. He really loved the lemon curd on the top and ate several of the lemon bars just by licking off the curd and leaving the shortbread crust on his plate. (I prefer the whole lemon bar together because I think the crust really balances out the tart curd, but to each his own.)
This recipe is a little time consuming because you have to chill the crust before baking it, and then you need to chill the finished product overnight. It is definitely worth the wait though. The lemon curd on top is so tart and creamy that it is just what is needed on a hot afternoon. I hope you give these a try this summer, and I hope you enjoy the taste of summertime.
Lemon Bars
Printer Friendly Recipe
Crust:
1 3/4 cups all-purpose flour
2/3 cup confectioners sugar
1/4 cup cornstarch
3 3/8 tsp salt
12 tablespoons unsalted butter
Filling:
4 large eggs (beaten slightly)
1 1/3 cups sugar
3 Tbsp all-purpose flour
2 tsp finely grated lemon zest
2/3 cup lemon juice (3 to 4 large lemons) – strained
1/3 cup whole milk
1/8 tsp salt
confectioners sugar (to garnish)
Directions:
Crust:
Preheat oven to 350 degrees F.
Lightly butter a 9×13 inch baking dish and line with parchment or wax paper. Dot paper with butter; lay second sheet crosswise over it. (Leave edges sticking up above the edges of the dish.)
In a food processor, pulse the flour sugar, cornstarch and salt. Add butter and process to blend; pulse until mixture is pale yellow and resembles coarse meal. Sprinkle mixture into lined pan; press it out to spread over the bottom of the dish and 1/2″ up the sides.
Refrigerate for 30 minutes. Reduce heat to 325 degrees and bake for 20 minutes until golden brown.
Filling:
Whisk eggs, sugar and flour in medium bowl. Stir in remaining ingredients and blend well. Pour filling into warm crust. Bake until filling feels firm when touched lightly (about 20 minutes). Cool in the refrigerator overnight.