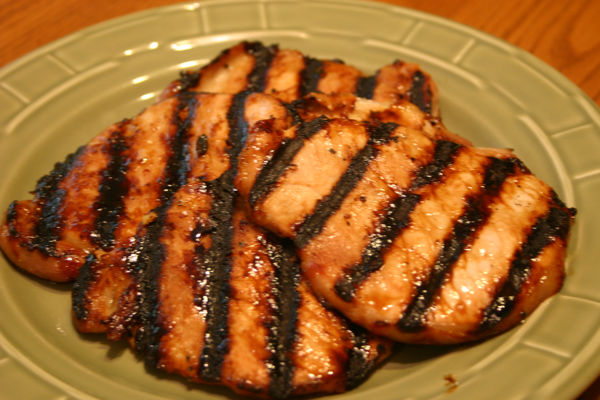 When it is hot outside, the last thing I want to do is heat up my kitchen by turning on the oven or stove so most of the time I resort to the grill. I actually love to grill, and don't leave the grilling just for Jeffrey. While he does his fair share of tending to the grill, I am out there quite a bit myself.
Several people have asked me lately what I do for dinner when its hot. I honestly answer that a lot of the time I resort to salads and something on the grill. I'm sorry that I don't have a better answer. I am doing my best to search and try out new recipes and will find other options–I promise, but until then I will share this recipe for the grill.
This recipe is tried and true at our house. I can tell you that I love it. It is great paired with fresh veggies from the garden, couscous, rice, salad…the options are endless. (I think it would also be great on chicken but I have never tried it because I love it so much on the pork chops. We grill enough chicken so this Citrus pork gives us a nice change of pace.) So as you are looking for something easy to throw together, give this marinade a try.
Citrus Marinade for Pork
Printer Friendly Recipe
Ingredients:
⅓ cup orange marmalade
2 tablespoons soy sauce
1 garlic clove, minced
¼ teaspoon black pepper
Directions:
Combine all ingredients and pour over boneless pork chops, turning to coat. Refrigerate for at least 1 hour but it is better if you can marinate longer. (I put mine together in the morning and let it marinate in the fridge all day.) Spray the grill with a nonstick cooking spray before grilling. Grill until chops are cooked through, flipping halfway through.
*I find it best to use a metal spatula to turn the chops. Be careful because the marmalade's high sugar content causes the meat to caramelize quickly.