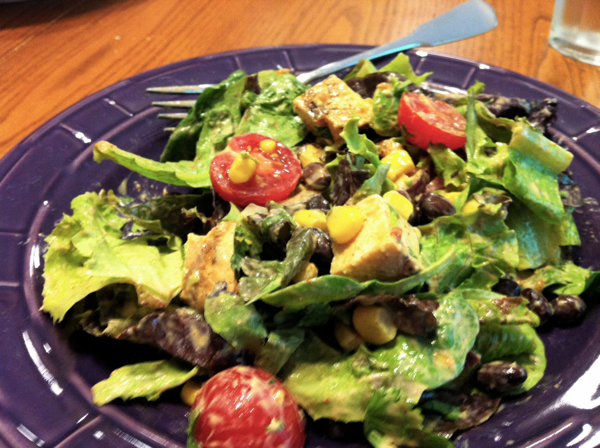 This year I joined a CSA (community supported agriculture) to try to be more consistent with my desire to eat food that is in season and grown locally. I have really enjoyed the CSA so far and have made a commitment that whatever I am offered I will find a way to cook. No exchanging items for this girl! (I make this promise while I am still searching for a way to prepare the locally made tofu I received last week in my bag.) I think it will be a great way to stretch me out of my comfort zone as well as support the local farmers. I will say that so far (with the exception of the tofu) the items have been very easy to fit into my everyday meals. I have received lots of lettuces and tomatoes and I am not complaining.
I have really enjoyed the fresh salads I have been able to prepare. I enjoy salad quite a bit, so it is a nice addition to any meal for me. Jeffrey, on the other hand, is not a salad lover. He does surprise me on occasion, and as I am putting up the lettuce after making a side salad for myself he will request one of his own. He does however love taco salads. I know you aren't surprised. He actually requested chicken taco salad this week and I was all too happy to make it. It is super easy to throw together, and even though the kids don't like the combined efforts of the salad they will eat several of the ingredients separately which still makes a complete meal for them.
If you have not worked with canned chipotle peppers in adobo sauce, I will warn you that they can be spicy so start out with a small amount and then taste before you add the whole amount. I love the flavor that they add to the dressing, but if you aren't ready they can be quite spicy. I also would like to add that we only throw together enough of the ingredients to make enough for us to eat and then I save the individual ingredients in separate containers to throw together a fresh salad the next day for leftovers.
Chipotle Chicken Taco Salad
Printer Friendly Recipe
Ingredients:
Dressing:
1/3 cup chopped fresh cilantro
2/3 cup light sour cream
1 tablespoon minced chipotle chile, canned in adobo sauce
1 teaspoon ground cumin
1 teaspoon chili powder
4 teaspoons fresh lime juice
1/4 teaspoon salt
Salad:
4 cups shredded romaine lettuce
2 cups grilled or roasted boneless chicken breasts, cubed (about 2 breasts)
1 cup cherry tomatoes, halved
1/2 cup diced peeled avocado
1/3 cup thinly sliced red onion
1 (15-ounce) can black beans, rinsed and drained
1 (8 3/4-ounce) can whole-kernel corn, rinsed and drained
Preparation
To prepare dressing, combine first 7 ingredients, stirring well.
To prepare salad, combine lettuce and remaining ingredients in a large bowl. Drizzle dressing over salad; toss gently to coat. Serve immediately.
Adapted from Cooking Light August 2006