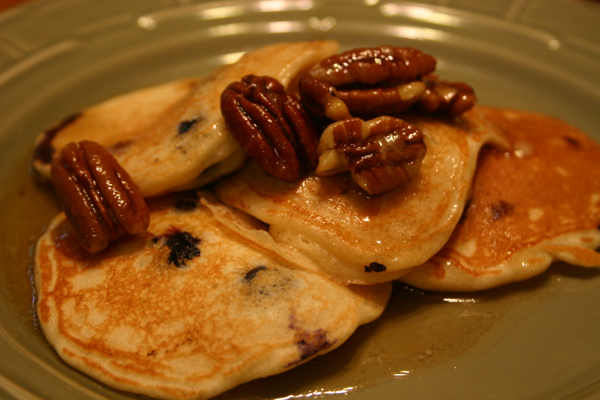 Pancakes are a tradition at our house. We went for several years eating them every Sunday night. We don't eat them on a weekly basis now, but they still hold a special place at our table. (We actually love them so much that Tyler suggested I do a whole week's worth of pancake recipes for the blog and call it Pancakepalooza.)
This past weekend we took advantage of a leisurely morning (no soccer games–swim meets don't start for a few weeks) and decided to break out the griddle. I normally whip up the batter and leave the cooking to Jeffrey, but this morning he and William took over and made everything to say thanks for me mowing the yard. (I actually cooked the bacon.)
Since William has not fallen in love with fresh blueberries like the rest of the family, he whipped up his own batch of buttermilk pancakes. I was so proud! He was proud too and wanted to make them again on Monday. Maybe our weekly tradition will begin again since we now have another pancake maker. 🙂
The rest of the family enjoyed blueberry pancakes. This recipe is my all time favorite! I love quite a variety of pancakes but something about blueberries and sour cream (or greek yogurt in this case) just hits the spot. This has been a tried and true recipe for years in our house. To top them off Jeffrey even made a maple-pecan syrup to go on top. Delicious! I think these would make a great addition to your weekend or plan on making them for dad's for Father's Day in a couple of weeks. I don't think anyone will be disappointed. You can always throw a batch of the buttermilk pancakes together as William did.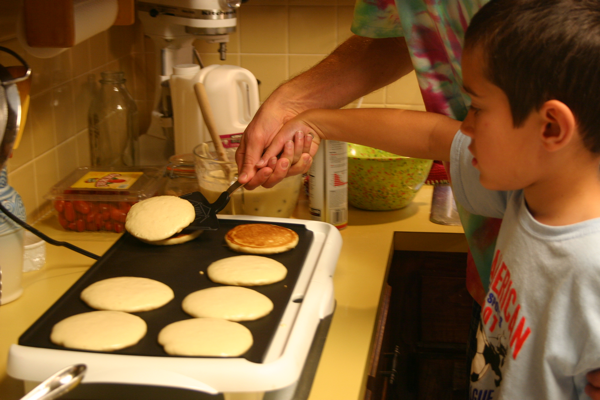 Blueberry Sour Cream Pancakes
Printer Friendly Recipe
Yield: serves 4
Ingredients:
1 1/2 cups flour
2 teaspoons baking powder
1 teaspoon salt
1/4 cup sugar
2 eggs, separated
1 cup sour cream (we substituted plain greek yogurt)
2/3 cup milk
4 tablespoons unsalted butter, melted and cooled
8 ounces blueberries (fresh or frozen)
Directions:
Sift the flour, baking powder, salt, and sugar together into a bowl. Separate the egg whites and beat them until soft peaks form. Set aside. Put the egg yolks, sour cream, milk, and cooled melted butter into a another bowl and beat well. Add the flour mixture to the egg yolk mixture and beat until smooth. Gently fold in the egg whites, then fold in the blueberries. Be careful not to over-mix (a few lumps is ok).
Heat a griddle or skillet (lightly greased or sprayed with cooking spray) over medium heat. Reduce the heat slightly. Pour about 3 tablespoons of batter onto the griddle and cook for 1-2 minutes until small bubbles begin to appear on the surface and the underside is golden brown. Turn them over and cook on the other side for 1 minute. Transfer to a plate and keep warm until all are cooked.
Serve with maple-pecan syrup.
*Maple-Pecan Syrup
4 ounces pecans (halves or chopped)
1 cup maple syrup
4 tablespoons unsalted butter
To make the syrup, spread the pecan over a baking sheet and cook in a preheated oven at 400 degrees for 5 minutes or until lightly toasted. Heat the maple syrup in a small saucepan and simmer gently for 3 minutes. Remove from the heat and stir in the toasted pecans and butter.