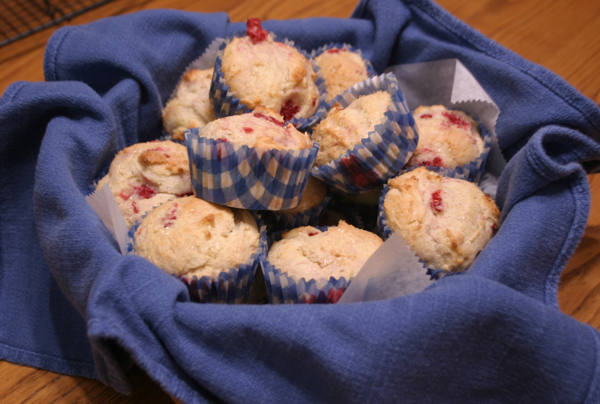 Several weeks ago during teacher appreciation week, one of the teachers requested a lemon raspberry muffin. I told her I would be happy to make a lemon raspberry muffin for her, but then quickly realized I didn't have a good recipe.  So I decided to do some experimenting. I loved my recipe for lemon ricotta muffins so I thought they would be a good base to which I could add some raspberries. I thought they were delicious and was well pleased with the result. The teachers seemed to enjoy them as well, because when I went back later in the day to retrieve my basket it was empty.
The funny part of the story was that when Tyler woke up the morning I took the muffins to school; he was looking for the muffins that I had been baking as he was going to bed the night before. He was massively disappointed when I told him I had already delivered them to the school for the teachers. He was heartbroken. I felt awful so I quickly threw together another batch of muffins so my sweet Tyler could have one before school. He was delighted. They were delicious and several guests got to enjoy them that day as well. I think they will be a standard breakfast treat at our house.
I hope you enjoy them as much as we did.
Raspberry Lemon Ricotta Muffins
Printer Friendly Recipe
Ingredients:
2 cups flour
1/2 teaspoon baking powder
1/2 teaspoon baking soda
1/2 teaspoon salt
1 cup plus 1 teaspoon sugar (divided)
1 stick unsalted butter, softened
1 tablespoon finely grated lemon zest (about 2 lemons)
1 cup ricotta cheese
1 egg
1 tablespoon fresh lemon juice
1/2 teaspoon almond extract
1 cup raspberries
coarse sugar for topping muffins before baking (I use sugar in the raw.)
Directions:
Line or spray a muffin pans. Preheat oven to 350 degrees.
In a medium bowl whisk together the flour, baking powder, baking soda, and salt. Set aside. In a large bowl, using an electric mixer, beat 1 cup sugar, butter, and lemon zest together until light and fluffy. Beat in the ricotta. Add egg, lemon juice, and almond extract and beating until smooth. Add the dry ingredients to the wet ingredients and stir with a wooden spoon or spatula until blended. (The batter will be thick and fluffy–almost the consistency of biscuit dough.) Gently fold in the raspberries.
Divide the batter evenly among the prepared muffin cups. Sprinkle the top with coarse sugar. Bake until the muffins just become pale gold on top, 20-25 minutes. Cool slightly before removing. Enjoy!