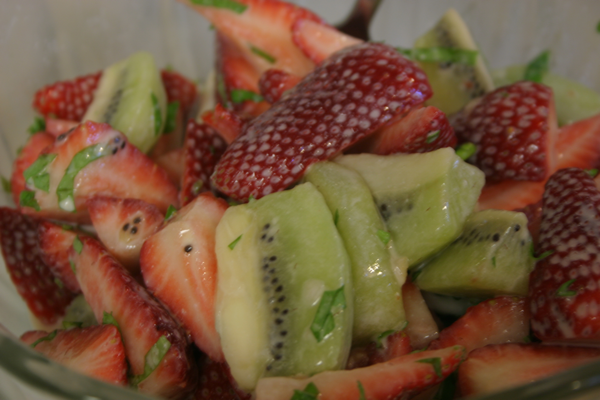 Are you looking for an easy addition to your Easter festivities? This salad is perfect. I actually think I made this for the first time last Easter. I love strawberries and am always looking for new ways to serve them. When I found this recipe, I knew I had to try it. It was a little different from my normal fruit salad, but I love the complexity of the flavors and thought it was an excellent addition to springtime meals.
I also love that this salad looks a little more "fancy" than some fruit salads so it can easily be served for a more elegant meal.  The flavors are simple enough that it will also go great with grilled hamburgers. My children do not love this salad because of the balsamic vinegar so I just keep a few of the berries and kiwi separate for them; however, adults really seem to enjoy this dish. If you are planning on having leftovers, do not add all of the basil because once it is refrigerated with the flavor of the basil really takes over the salad. I would suggest just having your berries and kiwi in the bowl with the balsamic vinegar and half and half and then just topping individual servings with your chopped basil.
Overall, I think you will be pleased with this sophisticated fruit salad. It may even be a great addition to your meal plans to serve along side some homemade scones for a "royal event" coming up in the next few days.
Strawberry Kiwi Salad
Printer Friendly Version
Ingredients:
1/4 cup half and half
2 tablespoons white balsamic vinegar
1 tablespoon sugar
1/4 teaspoon salt
3 peeled kiwifruit, each cut into 6 wedges
2 cups quartered strawberries (about 1 pint)
2 tablespoons finely chopped fresh basil
Directions:
Combine half and half, vinegar, sugar and salt in a bowl, whisking to combine. Add kiwifruit and strawberries; toss well. Cover and chill for 1 hour. Stir in basil just before serving.
Adapted from Cooking Light April 2001