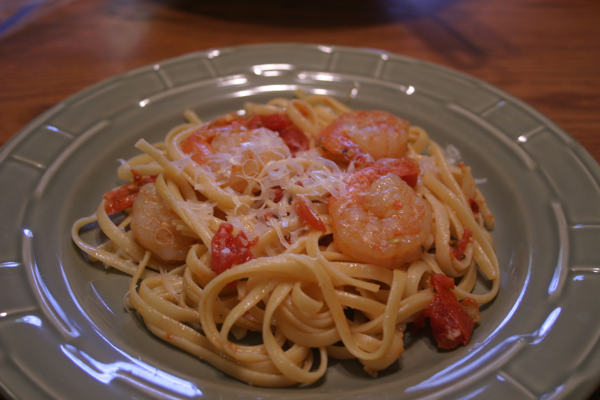 I am, depending on your perspective, either very spoiled or very blessed. Most evenings, after a day of work, I come home to find Dinah whipping up some amazing creation in the kitchen. Dinah does an amazing job of coming up with new things to try and keeping the house humming along. Dinah is much better than I at looking at recipes and being able to tell if it will be good or bad.  Occasionally, though, I'll look through a cookbook or magazine and mention to Dinah the things that look good to me and might be worth trying.
The other day, Dinah received a new cookbook (Thanks Pam!).  As I was glancing through the pages, I saw something that caught my eye.  One of the recipes (with a good picture) was Shrimp Fra Diavolo.  A few years ago Dinah and I went to the Country Club Plaza and I enjoyed Shrimp Fra Diavolo at Brio. I loved the dish because it was spicy (the name means "devil's brother").  When I ordered it to be extra spicy and the chef took that as a challenge and almost set me on fire. Wanting to recreate that experience (minus the fire for the others), I told Dinah I would enjoy having it sometime.  A few days passed and Dinah told me that I could create a guest post on her blog and that she thought that I should try the shrimp dish.
Reading the recipe, I realized that the dish looked like something I could manage.  More than that, I could make it spicy, it required a ton of garlic, and involved fire!  It sounded fun and I guessed that the boys would think it was pretty cool that I was creating fire on purpose. In the homily at our wedding, my Grandfather talked about how God did not create Eve from Adam's head that she should rule over him nor did God create Eve from Adam's foot that he would rule over her.  Instead, my Grandfather reminded us that God made Eve from Adam's rib so that they could be equal partners. So it is my pleasure to post on the blog of my best friend and partner. Along the way I learned a new appreciation for how hard it is to follow a new recipe, trying to do everything correctly while taking pictures. I was unequal to the task. Thanks to Dinah for taking the pictures!
Shrimp Fra Diavolo
Printer Friendly
Serves: 4 to 6
Ingredients
1 pound large shrimp, peeled and deveined
1 tsp red pepper flakes
1 tsp kosher salt
6 Tbsp extra-virgin olive oil
¼ cup cognac or brandy (I used brandy)
¼ cup garlic minced (a whole head of garlic)
2 14 oz. cans diced tomato, drained
1 cup dry white wine
½ tsp sugar
1 pound linguine
¼ cup minced fresh parsley (I used about 1 tsp. of dried)
Directions
Cook your linguine following the package directions to "al dente." Save ½ cup of pasta water in case you need it for your sauce.
While your linguine is cooking, toss the shrimp with ¾ tsp of kosher salt and ½ tsp of red pepper flakes in a bowl. Heat 2 Tbsp of extra-virgin olive oil in a 12-inch skillet over high heat. Once the oil is hot, add the shrimp in an single layer and cook for 30 seconds or until the shrimp start to turn spotty brown.
Remove the skillet from heat and turn the shrimp over. Evenly spread the brandy over your shrimp (do not add the brandy over heat as it may ignite before you are ready). Using a long match, ignite the brandy. Return your skillet to high heat and shake the skillet until the flames subside. When the shrimp is cooked, transfer it to a bowl and set aside. Let your skillet cool so you do not burn the garlic in the next step.
Add 2 or 3 Tbsp of extra-virgin olive oil and 3 Tbsp of garlic to your cooled skillet and cook on low heat stirring frequently until the garlic foams and is light brown. It may take up to 10 minutes.
Stir in remaining ½ tsp red pepper flakes, the tomatoes, wine, sugar and ¾ tsp of salt. Bring to a simmer and cook until the sauce thickens (about 10 minutes). Add remaining Tbsp of garlic, parsley and the cooked shrimp with any sauce that was in the bowl with the shrimp. Simmer for a minute or two until the shrimp is heated through.
Combined the sauce, the linguine and 1 Tbsp of oil and toss. Add salt and pepper to taste. If necessary, add pasta water to loosen the sauce.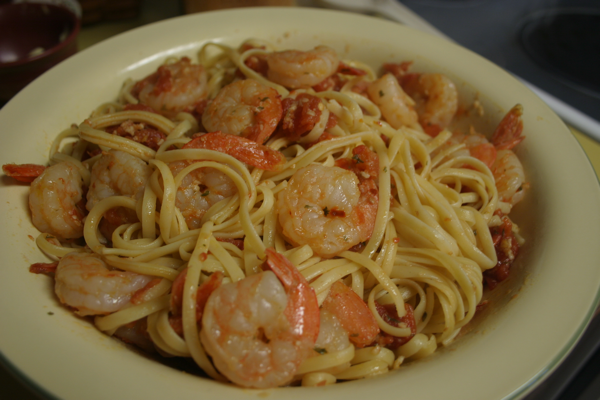 Adapted from The America's Test Kitchen Family Cookbook