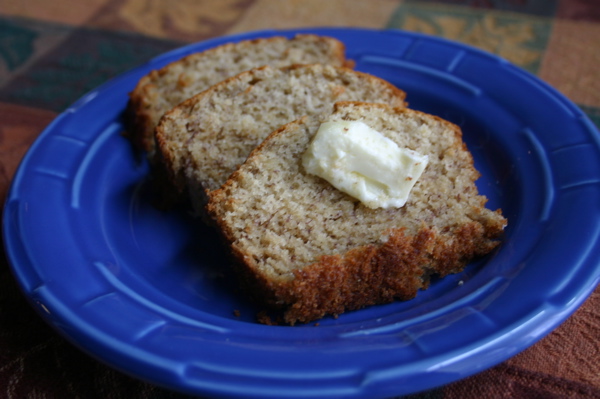 My mom wasn't one to make cookies on a regular basis. She would make the no-bake cookies, and would make cakes and goodies but cookies were not a regular for her. She would however make banana bread! She would make it extra special by adding chocolate chips to the batter as well. It is phenomenal this way! I would much rather have chocolate chips in my bread than walnuts or pecans any day.
Now, I do not always put chocolate chips in the batter as you can see from the picture; however, on most occasions at least one of my loaves will be filled with chocolate goodness. One of my favorite breakfasts is to eat this banana bread slathered in peanut butter. YUMMY! I am wishing I had some banana bread now.
I actually made this bread over Thanksgiving while visiting my dad. My niece and nephew were excited when they came over and smelled the intoxicating aroma of the bread that was baking. Aunt Dinah got to spoil them with hot bread fresh out of the oven. Too bad we didn't have chocolate chips on hand. I hope you enjoy this banana bread as much as I do. I think it would make excellent gifts if you bake it in smaller loaf pans.
Banana Bread
Ingredients:
2 cups flour
1 teaspoon baking soda
1 teaspoon cream of tartar
1/2 teaspoon salt
1/2 cup butter at room temperature
3/4 cup brown sugar
2 eggs
1 cup chocolate chips (optional)
1 1/2 cups mashed ripe bananas (about 3 medium bananas)
2 tablespoons hot water
1 teaspoon vanilla
Directions:
Preheat oven to 350 degrees. Grease a large loaf pan (or 3 smaller ones).
In a medium sized bowl combine flour, baking soda, cream of tartar, and salt. Gently whisk to combine ingredients together.
In a large bowl of a stand mixer or mixing bowl beat butter and brown sugar until smooth and creamy. Scraping the bowl down as needed. Add eggs one at a time, beating after each addition. Stir in mashed bananas. Add flour mixture, 1/2 cup at a time, beating well after each addition. Stir in water and vanilla by hand. Stir in chocolate chips if using. Pour into prepared pan(s).
Bake for 55-60 minutes for a large loaf and around 30 for smaller ones. Test loaves with a toothpick to make sure they are fully cooked. Let cool in pan for about 5 minutes then remove from pan and cool on wire rack.