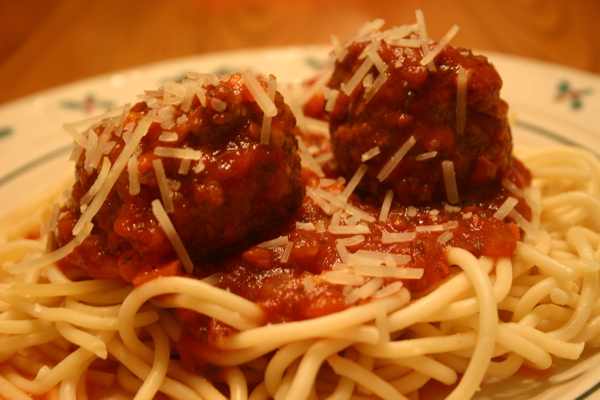 I mentioned last week how I was feeling nostalgic, and this recipe is one of my favorites from my childhood. I have many fond memories of my mom making spaghetti and meatballs. The smell that will fill your kitchen as the sauce and meatballs are simmering is amazing!
It didn't take long for Jeffrey to learn to love them either. In fact one of the first times I cooked for him, this dish is the meal I prepared.  He showed up fashionably late assuming that it was a casual party only to discover too late that I had made a whole meal. If we were headed to Knoxville, he would frequently request this recipe and my mom would always make them for him.
While they are best the day after you make them (many times I'll prepare the sauce and meatballs the day ahead then warm them up in time for the meal), you can still enjoy them the day of if you can't resist them. I normally like to cook them on a Saturday and them serve them on Sunday. The recipe makes too much for a family of four (or five) so its a good idea to invite some friends over. Is there anything better than sharing a meal with friends?  You may even have enough leftovers to make meatball subs later in the week.
I would like to say thank you to everyone who commented and entered the giveaway for the Penzy's spices. I thoroughly enjoyed reading everyone's comments. It sounds like we have some amazing bakers out there. I was introduced to several new cookies that sound delicious. Feel free to send care packages my way! 🙂
Congratulations to the winners (chosen using random.org):
Becky@TheVioletFig: My favorite holiday cookies are my mom's norwegian cookies- we call them San Cacas… not sure how to really spell it, but they are buttery and almondy. We make them in old family tins that are shaped like flowers and hearts.
Karla Christy: I love the holidays and all the cookies that come with it. If I had to choose a favorite it would be ginger snaps.
I will be contacting you for your addresses so I can get your spices to you. Enjoy!
Spaghetti and Meatballs
Sauce (best if cooked the day before serving)
Ingredients:
2 tablespoons olive oil
1 cup chopped onion
2 cloves garlic, minced
1 cup grated carrots
1 teaspoon dried basil
1 (2lb. 3oz.) can tomatoes
2 tablespoons Worcestershire sauce
2 tablespoons parsley
1 teaspoon salt
1/2 teaspoon pepper
1 can beef bouillon
1/2 cup red grape juice
1 teaspoon oregano
2 (6oz.) cans tomato paste
1 teaspoon sugar
Directions:
Heat oil in a 6-quart stockpot. Saute onion, and carrot in oil.  Add garlic being careful not to burn the garlic. Add remaining ingredients and stir to combine. Bring to a boil stirring occasionally. Reduce heat; simmer, covered and stirring occasionally for 2 hours. Set aside.
Meatballs
Ingredients:
2 1/2 pounds ground chuck
1 cup corn flakes
2 cloves garlic, minced
2 teaspoons salt
1/2 teaspoon pepper
2 eggs, slightly beaten
1/2 cup milk
1 teaspoon basil
3 tablespoons parsley
Directions:
In a large bowl, combine all ingredients until the meat mixture comes together and the seasoning is dispersed throughout the mixture. Shape mixture into balls 1 1/2 inches in diameter. (The recipe will make about 20 meatballs.) Place on broiler pan. Broil meatballs about 10 minutes (until browned on top). Turn them over and broil for another 10 minutes until browned. Add meatballs to sauce and simmer covered for 30 minutes. Serve with your favorite noodles.