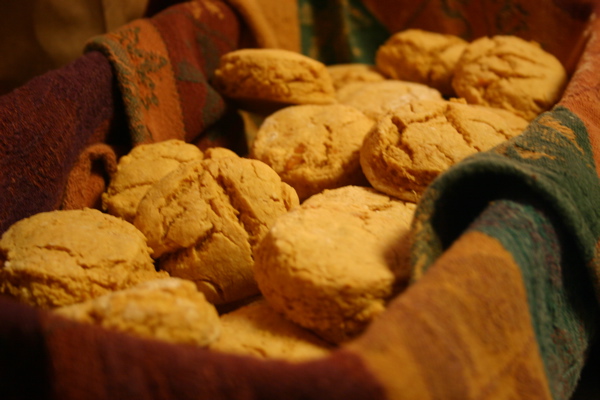 Growing up in the South, you learn to love biscuits. My aunt makes the best buttermilk biscuits hands down. Unfortunately, I am still working on my biscuit making skills, but I am becoming a pro at making sweet potato biscuits (because this recipe is such a favorite). After making these the first time, I began to think that there might be good reasons for straying from the biscuits from a can or the frozen biscuits from the grocery store. I actually think this recipe is helping me to improve my biscuit making abilities and helping me to cling to my southern roots.
Wednesday evening, while visiting my dad and family in Tennessee we were nearing the dinner hour with no real plans for the supper. Some families would head out for take-out, but not me. I said we could/should pull something together. Dad bought a HoneyBaked ham for our visit so I started with that as the centerpiece for the meal. Knowing how much Jeffrey loves ham (He especially loves country ham because of the extreme saltiness of the ham contrasted with the sweetness of the biscuits) on biscuits, I immediately decided that sweet potato biscuits would be a part of the meal. They were a hit. We rounded the meal out with some green beans, macaroni and cheese (qualifies for a veggie in the South), and homemade apple sauce.  My nephew Austin was won over immediately. Whether you have these at dinner time or breakfast they will be a hit. They will also be a good way to use up some leftover sweet potatoes from your Thanksgiving buying spree. If you don't have leftovers, run to the store because you will love these biscuits.
Hope you had a very Happy Thanksgiving! What a blessing we had being able to celebrate around the table with my Dad. He is the best!
Sweet Potato Biscuits
Ingredients:
2 cups all-purpose flour
2 tablespoons (packed) light brown sugar
1 tablespoon baking powder
1 teaspoon salt
3/4 stick (6 tablespoons) cold unsalted butter, cut into 12 pieces
2 15-ounce cans sweet potatoes in light syrup, drained and mashed or 3/4-1 cup mashed leftover sweet potatoes
Pinch of ground cinnamon
Directions:
Center a rack in the oven and preheat the oven to 425° F.
Whisk the flour, baking powder, salt and cinnamon together in a bowl. Add the brown sugar and stir to incorporate it, making sure there are no lumps. Add the butter and use your fingers to toss to coat it with flour. Quickly, working with your fingertips or a pastry blender, cut and rub the butter into the dry ingredients until the mixture looks like small pebbles. (You'll have pea-size pieces, pieces the size of oatmeal flakes and pieces the size of everything in between — and that's just right.)
Add the mashed sweet potatoes to the bowl and toss gently using a fork. Turn the ingredients until you've got a nice soft dough. Once the mixture comes together reach into the bowl with your hands and give the dough a quick, gentle kneading — 3 or 4 turns should be just enough to bring everything together.
Lightly dust a work surface with flour and turn out the dough. Dust the top of the dough lightly with flour and pat the dough out with your hands or roll it with a pin until it is about 1/2 inch high (I generally just use my hands). Don't worry if the dough isn't completely even: these biscuits are great even when they look rustic.
Use a biscuit cutter to cut out as many biscuits as you can. Cut the biscuits close to one another so you get the most you can out of this first round. Transfer the biscuits to the baking sheet. Gather together the scraps, working them as little as possible, pat out to a 1/2-inch thickness and cut as many additional biscuits as you can; transfer these to the sheet. Continue this process until you have used all of the dough.
(The biscuits can be made to this point and frozen on the baking sheet, then wrapped airtight and kept for up to 2 months. Bake without defrosting — just add a couple more minutes to the oven time.)
Bake the biscuits for 14 to 18 minutes, or until they are puffed and golden brown. Cool slightly before serving for the best sweet potato flavor.
We love serving these with ham but they are also delicious served with butter and jam.
Adapted from Dorie Greenspan's Baking From My Home to Yours.