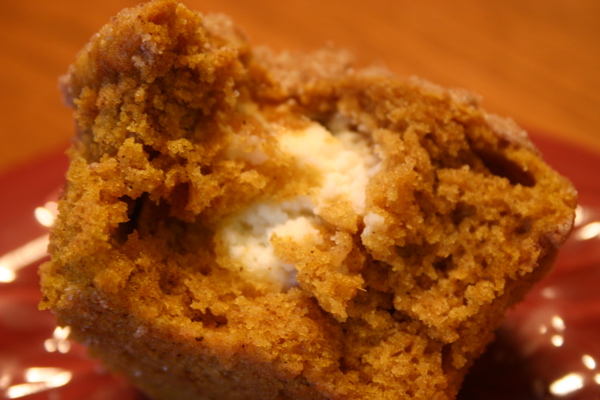 Muffins have always been my friend, but these babies are incredible! After biting into them, I was wondering why it had taken me over a year to make them.  I know these muffins will definitely be making another appearance during the holidays.
The recipe makes 24 muffins.  My suggestion? Go ahead and make the full recipe. I think you could easily freeze these and then pull them out when you needed your pumpkin fix. I sent a dozen of these muffins to Jeffrey's office on Friday as a treat for his co-workers. After eating the last one this morning, I was wishing that I had stashed a few more aside for us. I guess that just helps seal the deal–I will be making these again soon!
Don't be discouraged by the complexity of this recipe (I know it has quite a few steps). I promise the end results will make all the steps to the recipe worth it. The filling is the perfect amount of creaminess, and the streusel topping makes them glisten adding just the right amount of crunch. Don't get me started about the muffin itself, because it was heaven. YUM! It has just the right amount of spice and is so tender and moist. I am drooling as I am typing.
These muffins are suppose to be a knock off of the popular pumpkin muffin available at Starbucks, but if I were you I would save your $2.  Bake the 24 muffins, freeze what you don't eat at the first sitting, and pull them out as you "need" them even if you get your coffee at Starbucks! (That's what I did Sunday on my way to church.)
Pumpkin Muffins with Cream Cheese Filling
Ingredients:
For the filling:
8 oz. cream cheese, softened
1 cup confectioners' sugar
For the muffins:
3 cups all-purpose flour
3 teaspoons ground cinnamon
1 teaspoon ginger
1 teaspoon allspice
1/2 teaspoon ground nutmeg
1 teaspoon salt
1 teaspoon baking soda
4 large eggs
2 cups sugar
2 cups pumpkin puree
1 1/4 cups vegetable oil
For the topping:
1/4 cup sugar
2 1/2 tablespoons flour
3/4 teaspoon ground cinnamon
2 tablespoons cold unsalted butter, cut into pieces
Directions:
For the filling, combine the cream cheese and confectioners' sugar in a medium bowl and mix well with a hand mixer until well blended and smooth. Transfer the mixture to a piece of plastic wrap and shape into a log about 1½-inches in diameter. Wrap tightly with plastic wrap. I have found that if you twist the ends of the plastic wrap it will make a smooth log and you can make sure it is even throughout. Place in the freezer and chill until at least slightly firm, about 2 hours.
For the muffins, preheat the oven to 350˚. Line muffin pans with paper liners. In a medium bowl, combine the flour, cinnamon, ginger, allspice, nutmeg, salt and baking soda; whisk to blend. In the bowl of an electric mixer combine the eggs, sugar, pumpkin puree and oil. Mix on medium-low speed until blended. With the mixer on low speed, add the dry ingredients, mixing until just incorporated (you may need to stop and scrap down the sides once or twice).
To make the topping, combine the sugar, flour and cinnamon in a small or medium bowl; using a pastry cutter or two forks cut the butter into the dry ingredients until the mixture is coarse and crumbly.
To assemble the muffins, fill each muffin well with a small amount of batter, just enough to cover the bottom of the liner (1-2 tablespoons). Slice the log of cream cheese filling into 12 equal pieces and then each piece in half to make 24 equal pieces. Place a slice of the cream cheese mixture into each muffin well. Divide the remaining batter among the muffin cups, making sure the cream cheese mixture is covered. Sprinkle a small amount of the topping mixture over each muffin to cover the top.
Bake for 20-25 minutes. Transfer to a wire rack and let cool completely before serving. You want to be careful the cream cheese is very hot. (I tasted one while they were still slightly warm but preferred them the next morning when they were completely cooled.)