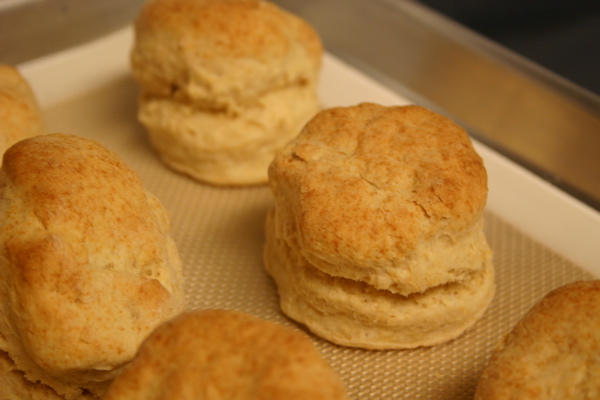 Since I have been going back to my Southern roots this week, I thought I would finish the week with these biscuits. Biscuits are something that are truly appreciated in the south.  I don't know that I really understood this fact until I moved to the midwest and got biscuits at a breakfast restaurant.  They were horrible.  I quickly learned my lesson.  You do not order biscuits at a restaurant unless you are in the south.  (There may be exceptions to this rule. If you know of a good biscuit place, please let me know.)
I have tried and tried to make biscuits like my mamaw (that's grandmother in southern) or my aunt, but they do not live up to my heritage.  I have even stood by and watched my aunt trying to figure out her secret.  (She doesn't measure anything! She just makes them by the way they feel.)  Anyway, I have been unsuccessful in all of my attempts to recreate my family's biscuits so I have moved on to Dorie Greenspan again.
I have been making a sweet potato biscuit of hers for quite sometime and they are amazing.  I will definitely share that recipe soon. One night we had friends over for dinner, and I decided to look to Dorie for inspiration again.  I saw this recipe for sweet cream biscuits. I had cream on hand so I threw them together in no time.  Let me tell you as a Southerner and an expert biscuit eater, these biscuits are scrumptious.
Sweet Cream Biscuits
Ingredients:
2 cups flour
1 tablespoon baking powder
2 teaspoons sugar
1/2 teaspoon salt
1 1/4 cups cold heavy cream
Directions:
Preheat oven to 425 degrees.
Whisk flour, baking powder, sugar, and salt together in a bowl. Add cream to the flour mixture. Using a fork start stirring the ingredients together. You should have a nice soft dough. With your hands, give the dough a quick gentle kneading just enough to bring everything together. (3 or 4 turns)
Lightly dust a surface with flour and turn out dough. Dust dough lightly with flour and pat it out with your hands or a rolling pin until it is about 1/2 inch high. (The less you work with the dough the more tender the biscuits will be.)
Using a 1 1/2 – 2 inch biscuit cutter cut out as many biscuits as you can. Cutting them as close to one another as possible. Transfer the biscuits to a baking sheet lined with parchment or a silicone mat. Gather the scraps together and pat them out again to a 1/2 inch thickness and cutting out more biscuits until all of your dough is used.
Bake the biscuits for 14-18 minutes, or until they are tall, puffed and golden brown. Serve them with honey, jam, sausage and gravy or just by themselves.
*After cutting the biscuits out you may them freeze them for up to two months if wrapped well. Bake them without defrosting but adding a few minutes to the baking time.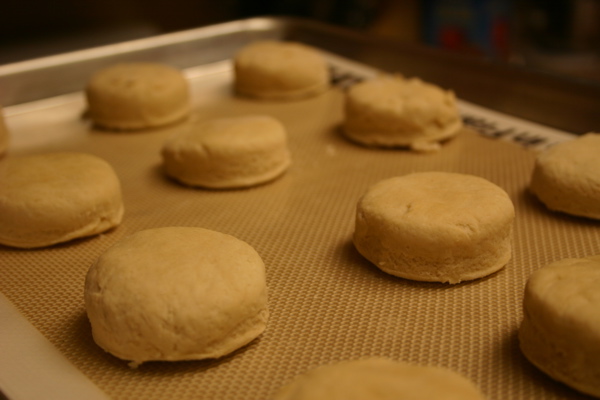 It may not be the recipe handed down from my mamaw but it is a keeper and I will definitely be handing it down to my children.
Adapted from Dorie Greenspan's "Baking from my home to yours"