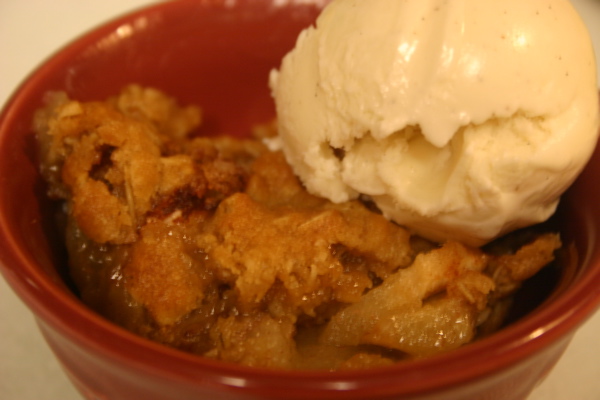 Today was the perfect fall day.  I know it isn't officially fall until next week, but today was amazing.  I even got to wear my cowboy boots for the first time. 🙂  Weather like this just calls for Apple Crisp.  Mmmmmmmm!  The sweet smell of apples baking in the oven, cinnamon, and a crunchy oat mixture on top.  You couldn't ask for anything more.  Well, of course you probably could ask for more; however, biting into this dessert is pretty good. This desert is enough to make me content.  (I did go overboard. In a moment of evil genius, as my son Tyler might describe it, when I topped my serving with some leftover caramel dip from earlier in the week.  I just couldn't resist!)
When I bake with apples, I almost always use Granny Smith.  I like the way they cook and the tartness is an excellent contrast to all the sugar in this recipe. Actually, the apples I used for this desert were originally purchased for dipping into the caramel dip.  The apples were mealy and I didn't really enjoy them on their own or even slathered in caramel.  They were, however, delicious when baked in this dessert.  I have found that when apples are a little bit past their prime you can still use them for baking or even turn them into apple sauce.  I love this versatility because sometimes I go on buying sprees and the apples that were so popular with the family last week are neglected and ignored. Re-purposing apples allows me to avoid wasting money and lets me serve them in a different way that the boys will enjoy.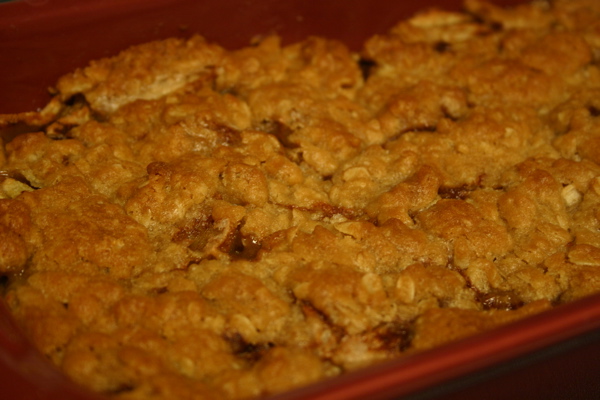 Apple Crisp
This recipe serves 6.
4 cups sliced apples (I used 4 apples.)
1 teaspoon cinnamon
1/2 cup sugar
1/2 cup butter
1/2 cup brown sugar
1/2 cup flour
1/2 cup oats
Place the sliced apples in a 11 X 7 baking dish. (When I slice my apples I quarter them, remove the seeds and them slice each quarter across the quartered wedge to make bite-sized slices.) Sprinkle apples with cinnamon and sugar. You could combine the cinnamon with the sugar and them sprinkle or just sprinkle them over individually. Mix butter, brown sugar, flour, and oats together in a medium bowl with a fork or pastry cutter. You want the butter cut in small pieces and incorporated with the other ingredients. When it is all combined but still crumbly sprinkle it over the apples. Bake for 40 minutes in a 350° oven. Serve warm on its own or feel free to top with ice cream, caramel dip, or both. Anyway you have it I am sure you will enjoy it. I know I did.