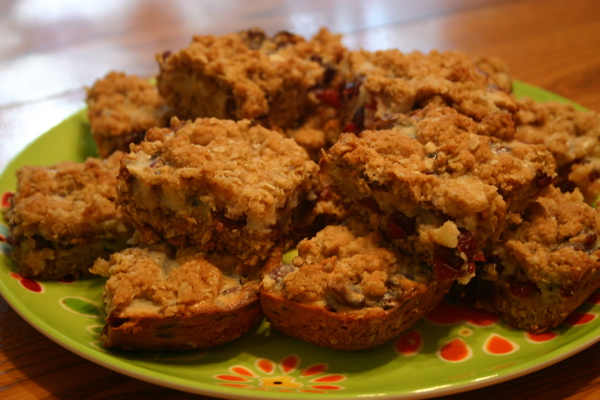 I mentioned a few weeks ago that I am not good at eating breakfast.  When I have these bars on hand, eating breakfast is not a problem. I simply love them! I don't know what it is about oats, but I have always loved items with oats in the ingredient list. I love these bars for breakfast, but once they are made I might eat one anytime of the day.  They are great for an afternoon snack or even for a dessert in the evening when you want something sweet but not overly sweet. These bars are great with a good cup of coffee.  Just writing about these makes me want to go whip up a batch, so I can enjoy them in the morning.
One of the great things about these bars is how the sour cream mixture bakes up to form the filling layer. I don't know how to describe the texture, but it is delicious. It is a soft, (but not too soft), sweet (but not too sweet) deliciousness surrounded by a soft oatmeal cookie like concoction. (As my husband is fond of saying, "these are good enough to make you swallow your tongue!") MMMMMMMM!
You really should try these this weekend. The flavors are a great step into the fall season that is quickly approaching.
Cranberry Oatmeal Bars
Crust
1 cup flour
1 cup quick-cooking oats
1/2 cup packed brown sugar
1/4 teaspoon salt
1/4 teaspoon baking soda
1/4 teaspoon cinnamon
6 tablespoons butter, melted
3 tablespoons orange juice
Filling
1 1/3 cups dried cranberries
3/4 cup sour cream
1/2 cup sugar
2 tablespoons flour
1 teaspoon vanilla
1/2 teaspoon grated orange rind (I normally grate one orange for the peel.)
1 large egg white
Preheat oven to 325 degrees.
Combine flour, oats, brown sugar, salt, baking soda, and cinnamon in a medium bowl and stir with a whisk. Combine butter and orange juice together and pour over oat mixture, stirring until combined. (The mixture will be crumbly.) Set aside 1/2 cup of oat mixture to use as topping. Press remaining oat mixture into the bottom of an 11X7 baking dish coated with cooking spray.
To make the filling combine all of the filling ingredients into a medium bowl and stir until well combined. Pour over the crust spreading it out to make sure it is evenly distributed over the crust. Sprinkle reserved oat mixture evenly over the filling. (I just crumble it over trying to cover it as evenly as possible.)
Bake for 40 minutes or until the edges are golden. Let cool before cutting. (If you can resist.) Enjoy with a nice ice cold glass of milk or hot cup of coffee.
Adapted from Cooking Light, November 2008