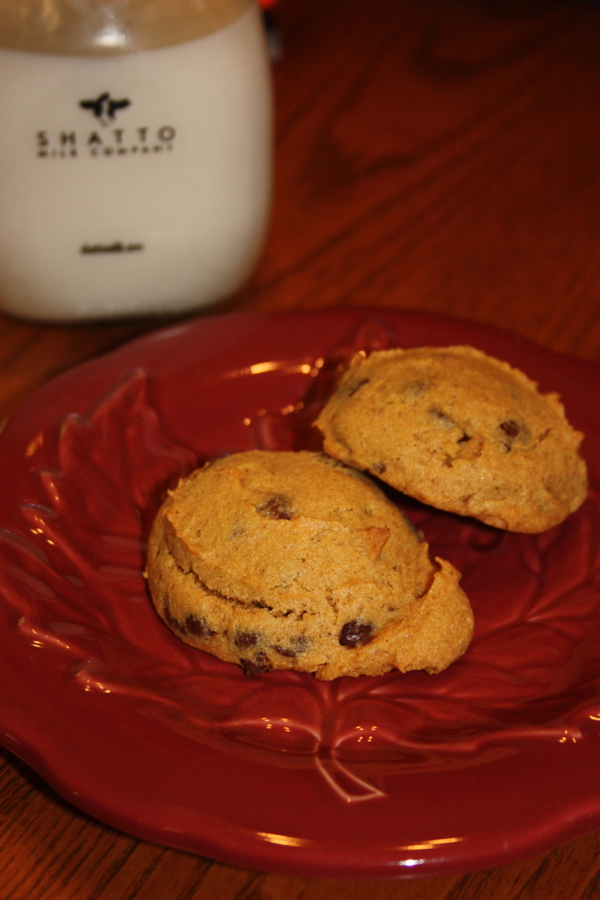 So–on with the house saga. We have a house! It is a beautiful new house with an amazing kitchen. I can't wait to show pictures. I won't lie and tell you that I am completely stress free now. Honestly, I have a whole new set of things to worry and stress about. I'm sure I won't be quite myself until everything is said and done and all the i's have been dotted and t's crossed.
In the midst of house hunting, getting out of our house so it can be inspected, having our new house inspected, the weather here has been beautiful. Fall is one of my favorite seasons and the weather has been fantastic.
I have even felt inspired to do some fall baking and use some of those stashed away cans of pumpkin. 🙂 (I am cleaning out the pantry if you remember.) I started the fall baking with baked pumpkin poppers. They are so yummy and they were gobbled up quickly. I had some leftover pumpkin in the refrigerator so I decided to make cookies. It has been awhile since the boys had cookies so I thought it would be a great treat for after school. The boys have been such troopers during the whole process that I thought they needed a treat. Not to mention Jeffrey. He has all of the stress of buying and selling the house like I do but then he has to deal with my craziness as well. I think the cookies may help.
I had lots of cookie dough from the recipe so after baking just over a dozen I decided to freeze the dough balls to have on hand throughout the next month. You never know when you may need a pumpkin and chocolate pick me up. I'll keep you posted on how the frozen cookies do when I bake them.
Pumpkin Chocolate Chip Cookies
3 cups gluten free flour (I used Namaste GF flour that I found at Costco.)
3/4 teaspoon salt
1/2 teaspoon baking soda
1/2 teaspoon baking powder
1 teaspoon ground cinnamon
1/2 teaspoon ground nutmeg
1/2 teaspoon ground ginger
1/4 teaspoon ground cloves
1 cup butter, at room temperature
3/4 cup brown sugar
1 cup granulated sugar
1 large egg
2 teaspoons vanilla extract
1 cup pumpkin puree
2 cups chocolate chips
directions:
Preheat oven to 350 degrees. Line a large baking sheet with either parchment paper or a silicone baking mat and set aside.
In a medium bowl, whisk together flour, salt, baking soda, baking powder and spices.
In the bowl of a stand mixer, cream the butter and sugars together until they are light and fluffy, 3-4 minutes. Add the egg, vanilla and pumpkin puree mixing until well combined, about 3 minutes. Slowly add the flour mixture. Mix until just combined. Fold in the chocolate chips.
Using a small scoop, drop rounded tablespoons of dough onto the prepared baking sheet. Bake for 10-14 minutes or until the cookies are just beginning to brown around the edges. Let the cookies cool on the baking sheet for 2 minutes before transferring them to a cooling rack.
*You can substitute all-purpose flour for the gluten free flour if you don't need your recipe to be gluten free.