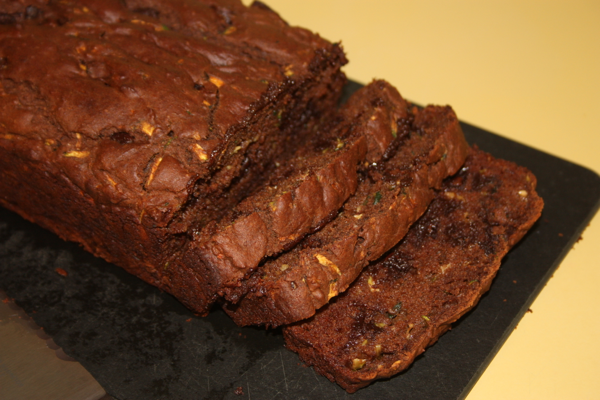 I mentioned last week that we decided to put our house on the market. Well it went on the market last Thursday and by Thursday evening we had a contract. Complete craziness! Needless to say I have been in stress mode trying to find a house for our family. Not to mention the fact that I have to completely pack us for a move.
In my attempts to make our load a little lighter, we have been eating out of our freezer and pantry quite a bit. I'm not sure our meals have been completely balanced, but I am seeing a dent in our cupboards and freezer.
In all of the stress, I finally found an hour and decided to bake some zucchini bread. I have always said that to calm my soul I can spend time in the kitchen. (The ocean also works though there is no time for that now :). This zucchini bread is different from my previous chocolate zucchini bread in two ways.  First, it is gluten free. Second, I also decided to try to go without processed sugar. What a huge step for me! I like the outcome and neither of my boys complained. Perhaps it is a good development. I can tell you that I won't feel bad about having a slice for breakfast with my cup of coffee as I check out the latest home listings.
GF Chocolate Zucchini Bread
Ingredients:
2 cups Pamela's Pancake and Baking Mix
1/4 cup cocoa powder
1/4 teaspoon salt
2 teaspoons cinnamon
1/2 teaspoon instant espresso powder
4 tablespoons honey
2 eggs
1/4 cup plain Greek yogurt
1 teaspoon vanilla
1/4 cup coconut oil
2 cups grated zucchini
1/2 cup chocolate chips
Directions:
Preheat oven to 350 degrees. Spray a loaf pan with non-stick cooking spray.
Combine baking mix, cocoa, salt, cinnamon, and espresso powder together in a small bowl. Whisk to combine. In a large bowl combine the eggs, yogurt, vanilla, and coconut oil, whisking until well combined. Using a rubber spatula fold in your dry ingredients. Once you have gotten all of the dry ingredients mixed in stir in the zucchini and chocolate chips. Once thee zucchini and chocolate chips are well combined pour the mixture into your prepared loaf pan smoothing the batter with your spatula. (The mixture will be thick.)
Bake for 35-45 minutes until a toothpick inserted into the middle comes out clean. Let cool in pan 5 minutes before removing. Slice and enjoy!