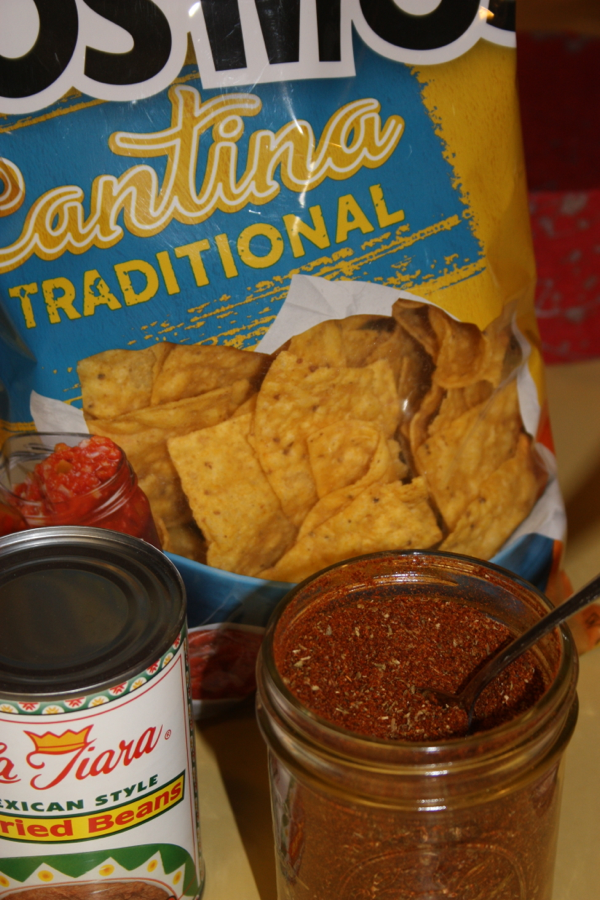 Do you have items that you previously bought in the store, but then you began making them yourself and have never turned back? That is the case with this taco seasoning. I can honestly say I have not bought taco seasoning for the past 2 years. Like many things, the reason I started making my own wasn't some big protest.  I simply was out and needed some one day and looked for a way to avoid a trip the store. We liked the homemade  so much that we never returned to those packets of taco seasoning.
If you are concerned about your sodium intake, this is a great recipe as it contains no salt. It tastes delicious and because it doesn't use anything fancy, I always have the items needed for it on hand. I usually just make it as it is needed; however, at Jeffrey's request I decided to make a jar full of it so that now he can just spoon out what he needs and not have to worry about pulling out all the spices to make it. One note: for the jar, I omitted the garlic and just add a couple of cloves to whatever I'm cooking.
Taco Seasoning
Ingredients:
1 teaspoon cumin
1 tablespoon chili powder
1 teaspoon oregano
1/4 teaspoon black pepper
2 cloves garlic, minced
Directions:
Combine all ingredients together and add to browned meat of your choice.
To make a large batch:
Combine 1 cup chili powder, 1/3 cup cumin, 1/3 cup oregano, and 4 teaspoons black pepper in a pint sized jar. Shake to incorporate all the ingredients. When ready to use add 1 1/2 to 2 tablespoons of taco seasoning mix with 2 cloves of minced garlic.