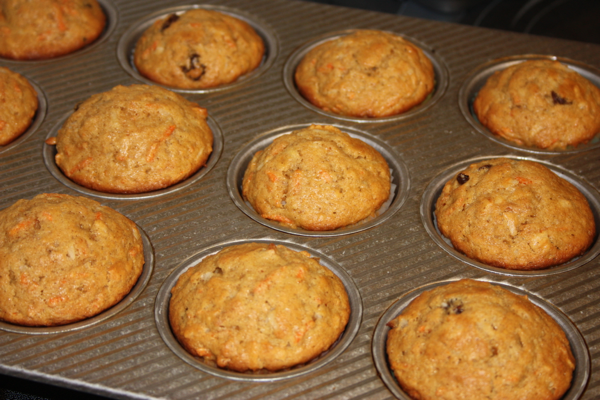 I'm not sure if I'm on a new kick of spice cake type recipes, but here is my second this week. Maybe it is just that fall is coming around and these are the kinds of flavors I really crave. I think it is kind of funny that after three years of blogging I'm still finding recipes that I use regularly that I haven't previously posted.
I admit to enjoying many kinds of muffins. One characteristic of most muffins is their sweetness.  These muffins aren't quite as sweet as most traditional muffins and I think that is part of their appeal. These muffins are a great alternative on days when you want a muffin without overwhelming sweetness and they offer a way to mix up breakfast.  These muffins are similar to carrot cake though they are much less dense and sweet.
I recently made these muffins for a catering gig and I'm pleased to say that they were well received.  I think they perfectly complemented the savory breakfast casserole without being overly sweet. While I didn't make these gluten free because they were not for my household, I'm sure substituting Pamela's baking mix for the flour would offer an easy way to make these gluten free.
Morning Glory Muffins
2 cups all-purpose flour
1/2 cup sugar
1 Tbsp. baking powder
1 1/2 tsp. cinnamon
1/2 tsp. ground ginger
1/4 tsp. baking soda
1/4 tsp. salt
1/3 cup (packed) light brown sugar
2/3 cup canola oil
2 large eggs
3/4 cup whole milk
1 tsp vanilla
1 cup shredded carrots (about 3, peeled and trimmed)
1/2 cup shredded sweetend coconut
1/3 cup raisins
1/3 cup pecans
Directions:
Preheat oven to 375° F. Grease a 12-cup muffin cup (or line with cupcake liners).
In a large bowl, combine flour, sugar, baking powder, ginger, cinnamon, salt and baking soda together with a whisk. Stir in brown sugar makings sure you have no lumps. In a separate bowl, combine eggs, oil, milk and vanilla together with a whisk until well combined.  Add liquid ingredients to the dry ingredients and gently stir until blended (do not over mix).  Add carrots, coconut, raisins and nuts.  Divide your batter evenly among the muffin cups.
Bake 20 minutes or until a toothpick comes out clean.  Cool for 5 minutes on a wire rack before removing muffins.
Adapted from Dori Greenspan's Baking: From My Home to Yours.