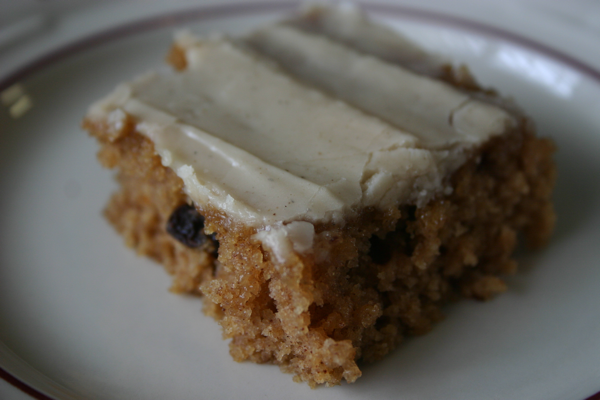 The last time I made this delicious treat I was visiting family in Tennessee over a year ago.  The other day I thought of these spice bars again and decided I wanted to make them for my family.  As you know, we've been cutting gluten out of our diet because of my youngest son.  The original recipe for these bars used flour so I was interested to see how they well they would adapt to being gluten free.
The good news is that they were just as good without sacrificing any flavor or texture at all!  I'm not sure if it is simply the fact that it has been so long since I made these or just an indication of how good they are, but I keep finding myself having a little extra.  I love the moist cake with the raisins topped with the sweet icing. The flavors seem to go well too with the fall season and offer a bit of variety in a season dominated by pumpkin (not that I don't like pumpkin as you can tell from my posts).
Perhaps it goes without saying, but I'm a big fan of Pamela's baking mix.  I love that I can substitute it for flour and then my family can continue to enjoy recipes that have been handed down from my mother and others.  As I'm writing this post, I'm already thinking of retrieving a piece from the microwave where it is being stored to keep it safe from the marauding dog who seems to try to eat anything that isn't protected.
What are the treats that you only make occasionally?  What are your favorite fall treats? What is the one thing you just cannot resist having just a little extra of when you make it?
Mom's Applesauce Spice Bars (Gluten Free)
Printer Friendly Recipe
Ingredients:
1 cup  Pamela's Baking Mix
⅔ cup brown sugar
1 teaspoon pumpkin pie spice
¼ cup shortening
1 teaspoon baking soda
½ teaspoon salt
1 cup applesauce
1 egg
½ cup raisins
Frosting:
1 ½ cups powdered sugar
3 tablespoons butter
1 teaspoon vanilla
1 tablespoon milk
Directions:
Preheat the oven to 350 degrees.
To make the cake place all of the ingredients in a large bowl. Whisk together by hand. Pour into a 9X13 baking dish and bake for 25 minutes.
For the frosting:
When the cake has about 10 minutes left to cook heat the butter in a saucepan until it is browned. Remove from heat. Mix in powdered sugar, vanilla and milk. Beat with a hand mixer until the frosting is smooth and spreadable. Spread on the warm cake working quickly to spread the frosting evenly. (The frosting dries quickly so you need to work fast.)