Even though summer has arrived we have been finishing up some end of the year responsibilities in addition to our busy summer schedules. This has kept me out of the kitchen more than I would like. It has also left my house in complete and utter disarray. I have two more catering gigs this week before I can really sit back and relax. I am counting down the moments.
Even though we have been quite busy, I have tried to throw in some special treats here and there for the boys. We camped out in the backyard to bring in the summer and had a blast roasting marshmallows by the fire. The boys received a box of Lucky Charms to celebrate summer and I may or may not have bought Pop Tarts. (I actually don't feel bad about indulging in these treats because on the whole our family doesn't consume these items on a regular basis and the occasional treat is just that…a treat.)
My boys have also started swim team and William is also doing dive team so they are eating us out of house and home so a few extra items are just helping fill the bottom-less pits that my children have become. As soon as I finish up these last catering jobs I will be stocking our cabinets and refrigerator with lots of healthy options to fill their tummies.
One of the things I love about summer is eating homemade ice cream. I usually don't feel bad about indulging in it because one its homemade and two I know we are getting more exercise in the summer then we do in the winter so the extra calories are not a concern. I decided to share some of our favorites with you and hopefully I will be in the kitchen soon making these goodies as well as other yummy food.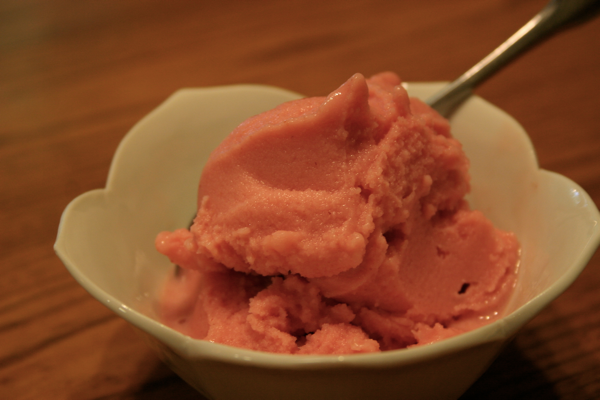 Strawberry Buttermilk Sorbet
Ingredients:
16 oz. package fresh strawberries (you can substitute frozen strawberries but you will need to thaw them.)
2 cups buttermilk
1 cup sugar (you may use less if the berries are super sweet)
1 teaspoon vanilla
Directions:
Put the strawberries in a food processor or blender and blend until smooth (my Vitamix works great for this task). If needed, scrape down the sides and blend again. Once the strawberries are smooth pour the puree through a fine wire-mesh strainer into a 2 quart mixing bowl. To speed up the process use the back of a spoon to press the puree mixture through the strainer (be sure to get all of the puree off the bottom of the strainer as well.) Discard the solids.
Add the buttermilk, sugar, and vanilla to the puree and stir until well blended and the sugar has dissolved. Cover and refrigerate for 1 hour.
Once the mixture has chilled pour it into a 1 ½ quart electric ice cream maker and freeze according to the manufacturer's instructions. Once the mixture has frozen enjoy!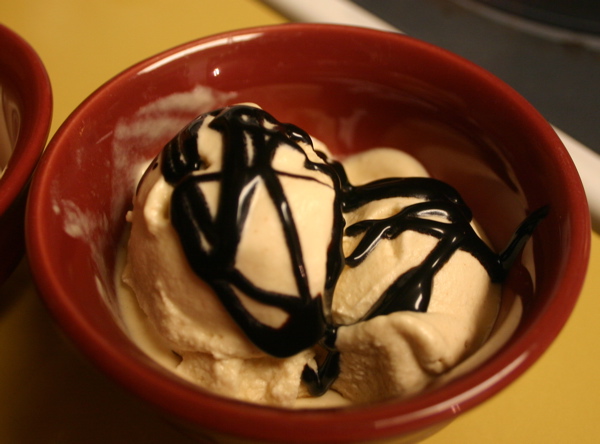 Peanut Butter Ice Cream
Ingredients:
3/4 cup creamy peanut butter
3/4 cup plus 2 tbsp. sugar
2 2/3 cups half-and-half
Pinch of coarse salt
1 teaspoon vanilla extract
Directions:
Combine all of the ingredients in a blender or food processor; and puree until completely smooth. Chill the mixture thoroughly in the refrigerator.  When the mixture is chilled through, freeze in an ice cream maker according to the manufacturer's instructions.
Serve immediately.  This recipe works great for my one and a half quart ice cream freezer.  If you are making larger quantities, you will want to double or triple the recipe.   You can also add your favorite ice cream toppings (my husband likes dark chocolate syrup), but chopped up Reese Cups or peanuts would be delicious too.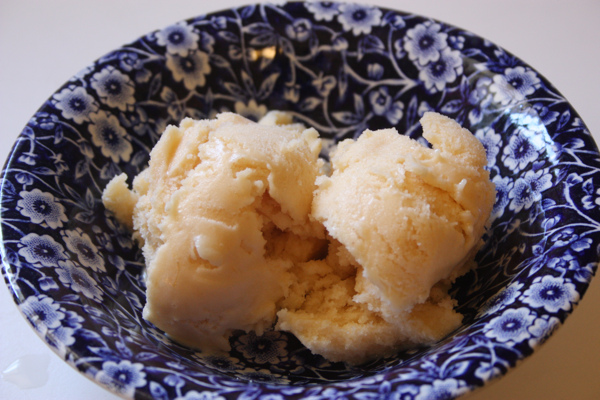 Peach-Apricot Ice Cream
Ingredients:
2 large cans of evaporated milk
2 1/2 cups sugar
1 12 oz can of apricot nectar
4 or 5 large peaches (more if using smaller peaches)
milk
Directions:
Peel peaches and slice them. Add to blender with apricot nectar and process until the peaches are at the desired consistency. Mix apricot-peach mixture with sugar and evaporated milk. Put the mixture in your ice cream freezer then add milk to fill line. Freeze then enjoy!
*If you have a small counter-top ice cream freezer just cut the recipe in half and it is the perfect amount.