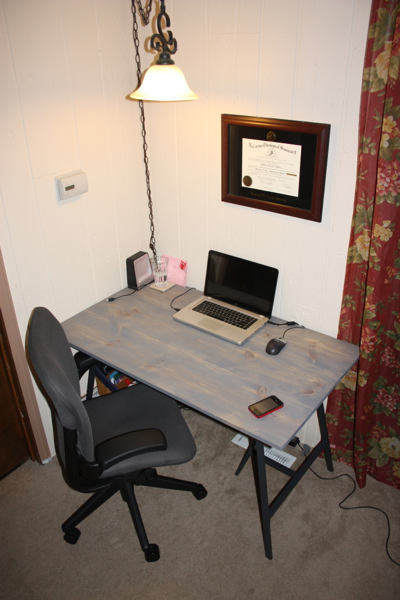 I am sorry that I don't have a recipe to share with you today. I had quite the busy weekend and was a single mom for two days while Jeffrey was away on a trip for work. I actually think this short trip was harder than when he was gone for almost three weeks. I decided to surprise Jeffrey and built him a desk while he was away.
Jeffrey has been working a crazy schedule lately and we had a small desk that he was using in the evenings at home. I saw a table on pinterest several months ago and thought it was just what Jeffrey needed. Thankfully I had friends visiting cities that had IKEA stores during Spring Break and one found the legs that I needed for my project. I finally decided it was time to visit Home Depot and start the project.
I am not a carpenter by any means and will not be leaving the kitchen anytime soon, but it was fun to try something new. I even found working with power tools quite enjoyable. Jeffrey was impressed and seems to really like his new desk. Now that I have this project marked off my to-do list I will be spending more time in the kitchen to make up for the fast food we consumed while Jeffrey was away and I was preoccupied. 🙂
We did however end our weekend with these chicken tacos and as we ate them I was trying to figure out why I don't make them more often. Yummy! We actually sautéed some onions and bell peppers to serve with them and it was quite delicious.