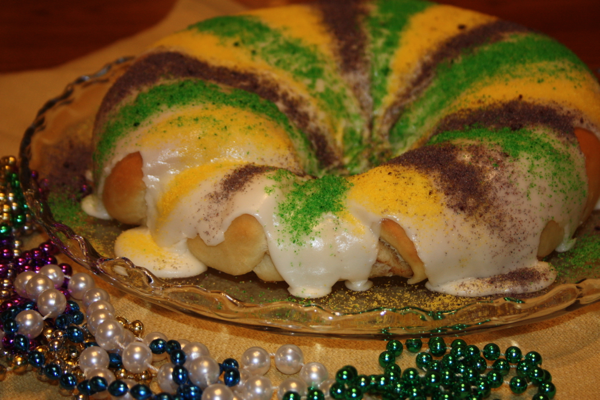 Today is Ash Wednesday. I am normally one who forgoes giving up something during this time, but have decided that this year I will sacrifice and give up desserts. Thankfully, Sundays are days that are exceptions to the fast so you better believe I will be having a little taste of something sweet to keep me going. Who knows? Maybe this will be a good thing.
For my regular blog readers, you know I love sugar and all things sweet. I was actually talking to one of my friends and mentioned what I was doing and she told me it would be a good thing. This discipline will help get me out of my comfort zone, and I will have the opportunity to try new things for the blog. (I am sure in my attempts to limit my sugar intake I will also be increasing my intake of fish and veggies.) This can only be a good thing. Right?
So, as Jeffrey, the boys, and I embark on this no goodies time during Lent, we decided we would have a Mardi Gras celebration at our house. While it was only our immediate family, we did celebrate with lots of yummy things. Our main entree for the evening was Sausage, Chicken, and Ham Gumbo (always a favorite though it only makes an annual appearance) and then ending the day with King's Cake (In truth, we are really began and ended the day with it.) It was super yummy. I think I will be adapting the recipe and having it appear in our breakfast pastry options (after Lent of course.)
I don't know if you are participating in Lent this year or not. If you do, please let me know what you are sacrificing. I would love to offer you encouragement, because I am sure I will be needing some encouragement of my own.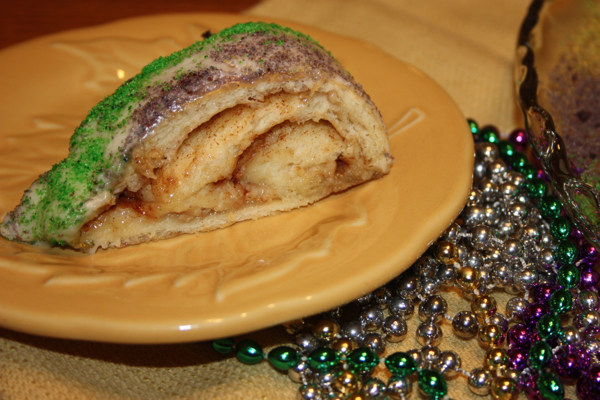 King's Cake
Ingredients:
Dough:
1 cup sour cream
2 tablespoons plus 2 teaspoons sugar
2 tablespoons butter
1/2 teaspoon salt
2 1/4 teaspoons active dry yeast (1-1/4 oz. packet)
1/4 cup warm water
1 1/2 teaspoons sugar
1 egg
3 cups bread flour
Filling:
2 tablespoons butter (softened)
1/4 cup sugar
3/4 teaspoon cinnamon
Glaze:
1 1/2 cups powdered sugar
2 tablespoons butter, melted
1 tablespoon lemon juice
1/8 teaspoon vanilla extract
1-2 tablespoons milk
Directions:
Cook sour cream, butter, 2 tablespoons plus 2 teaspoons sugar, and salt in a small saucepan over low heat, stirring often, until butter melts. Set aside, and cool mixture until just warm.
While the sour cream mixture is cooling, stir together yeast, 1/4 cup warm water, and 1 1/2 teaspoons sugar in a glass measuring cup; let stand 5 minutes.
Beat sour cream mixture, yeast mixture, egg, and 1 cups flour at medium speed with a stand mixer with the dough hook attachment until smooth. Reduce speed to low, and gradually add remaining 2 cups of flour until a soft dough forms. Continue mixing with the hook attachment for 4-6 minutes on medium speed. The dough will become smooth and elastic.
Place in a well-greased bowl, turning to grease top. Cover and let rise in a warm place, free from drafts, until dough is doubled in size (about 1 hour).
Once the dough has doubled in size punch it down. Roll the dough into a 22- x 12-inch rectangle. Spread 2 tablespoons softened butter evenly on the dough, leaving a 1-inch border. Combine 1/4 cup sugar and 3/4 teaspoon cinnamon together, and sprinkle evenly over butter.
Roll the dough , jelly-roll fashion, starting at a long side. Place dough roll, seam side down, on a baking sheet either lined with a silicone baking sheet or lightly sprayed with cooking spray. Bring ends of roll together to form an circle, pinching edges together to seal.
Cover and let rise in a warm place 30 minutes or until doubled in size.
Bake at 375° for 14 to 16 minutes or until golden. Slightly cool cake on pan. While the cake is cooling make the glaze.
For Glaze:
Stir together powdered sugar, melted butter, lemon juice and vanilla extract. Stir in 1 tablespoon milk, adding additional milk, 1/2 teaspoon at a time, until spreading consistency. Drizzle glaze evenly over the cake. Sprinkle with purple, green and gold colored sugars alternating to make bands of each color.
Adapted from Southern Living, February 2006.