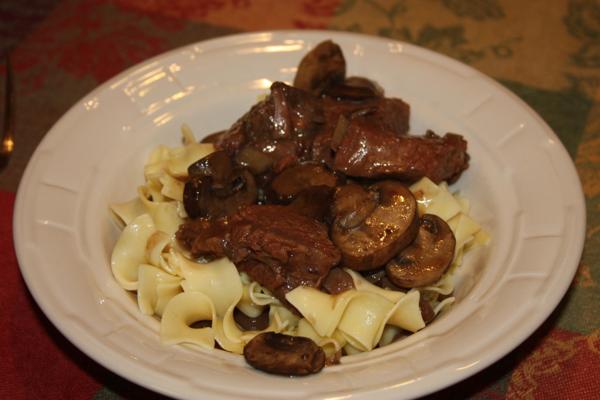 If you are looking for an authentic beef burgundy recipe, you should probably keep looking. If you are looking for a beef burgundy recipe that is easy to throw together when you are busy but want a yummy, hearty meal at the end of a long day, this is your recipe.
Jeffrey had been in London for the past two weeks. We were so happy to welcome him home last Friday night that I knew I wanted to have a good home cooked meal ready for us to enjoy when we arrived home from the airport. It would have been easy for me to propose going out to eat at a restaurant to celebrate Jeffrey's return, but I knew he had been eating out quite a bit and would be craving some home cooking. This recipe was the first to pop in my mind. It is super easy to throw together and it cooks in the crock pot so it was perfect.
Like I said before, this is not a "sophisticated" recipe for beef burgundy, but it is so delicious and super easy. I loved that I was able to get it cooking and then not have to worry about it again. I ended up cooking some egg noodles before we headed to the airport and had them covered in a bowl and drizzled with olive oil. Once we got back from the airport, all I had to do was warm some bread in the oven and we sat down for a wonderful and delicious meal as a family. We had been missing this family time so it was a wonderful reunion/homecoming.
Beef Burgundy
Printer Friendly Recipe
Ingredients:
2-3 pounds lean stew meat
1 envelope dry onion soup mix
1 can cream of mushroom soup
1 teaspoon pepper
2/3 cup dry red wine
2 (10 ounce) packages of mushrooms (you can either use sliced or quartered whole mushrooms)
egg noodles (for serving)
Directions:
Whisk together the onion soup mix, mushroom soup, wine and pepper in your crock pot. Add in the meat and stir to coat. Cook on low for 6-8 hours. You can either add the mushrooms at the beginning or add them for the last 3 hours of cooking.
Cook and drain egg noodles according to the package directions. Serve the beef mixture on top of noodles.
*If you don't have onion soup mix you can substitute 4 teaspoons beef bouillon granules, 8 teaspoons dried onion flakes, 1 teaspoon onion powder, and 1/4 teaspoon pepper.