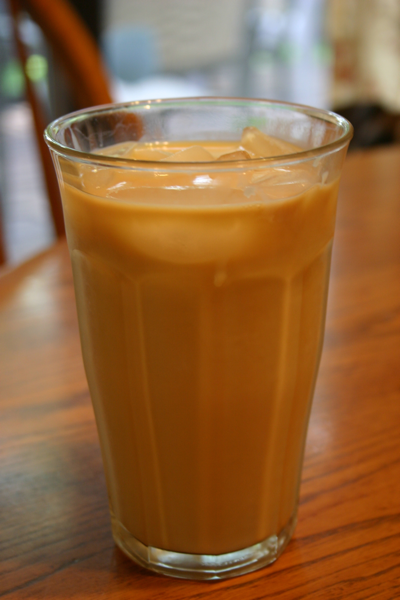 While we were in San Francisco, I fell in love with a New Orleans' style coffee from Blue Bottle Coffee. While browsing around the Ferry Building I kept hearing people comment on the coffee from this coffee shop being the best. I decided that I needed to try the place everyone was raving about, but wasn't really wanting a hot cup of coffee. After asking the Batista what the New Orleans coffee was like and hearing that it was a cold-brewed coffee brewed with chicory, I knew I had to try it. (I love Vietnamese coffee which is brewed with chicory so I was excited to try this new type.) It was delicious which lead me to my new found love. (This coffee was what I made Jeffrey "run" to get before we headed to Alcatraz.)
I really enjoyed the coffee and struggled trying to decide whether or not to grab a bag of the beans to take home. I ended up leaving without buying any beans, but was still thinking of the delicious coffee once I got home. I searched online and was considering ordering some beans to have delivered to my home.  The only problem was that the price was rather hefty. I decided that before I forked out the money for Blue Bottle's beans I would do an experiment and try cold-brewing the beans I had on hand. After a quick search on the Internet, I had a recipe to use as my starting place. Deciding there was nothing to lose, I went about cold-brewing my coffee with great expectations for the morning. I was very pleased with the results!
Everything that I had read said that cold-brewing the coffee brought out the flavor in the coffee without some of the bitterness that sometimes occurs during regular brewing. Jeffrey and I both enjoyed our iced coffee and decided it was a great alternative especially to have on a hot summer morning. I made a quick simple syrup to use to sweeten the coffee (since the coffee is cold, regular sugar won't dissolve), and we ended up using about 1 tablespoon of the syrup in our large class of coffee. The original recipe called for diluting the coffee; however, Jeffrey and I both just poured the coffee over ice and then added some half and half. You will have to decide for yourself how strong you like it. (Jeffrey and I both really enjoy strong coffee.)  Have fun with this coffee and enjoy the savings!
Cold-Brewed Iced Coffee
Printer Friendly Recipe
Yeild: 3 cups (about two large glasses if you don't dilute the mixture)
Ingredients:
⅔ cup coarsely ground coffee beans
3 cups water
1 quart jar or french press
Directions:
In a french press or jar, stir together ground coffee and water. Cover and let rest at room temperature 12 hours or overnight.
The next morning strain the coffee mixture twice through a coffee filter, a fine-mesh sieve or a sieve lined with cheesecloth into another jar or 4-cup measuring cup. (If using a french press just press the grounds down and serve or if desired run it through a coffee filter one time.)
Fill a tall glass with ice, mix equal parts coffee concentrate and water (if using), to taste. If desired, add milk and simple syrup.
*For the simple syrup combine ½ cup sugar with ½ cup water. Heat on the stove until the sugar has completely dissolved. Store in the refrigerator.