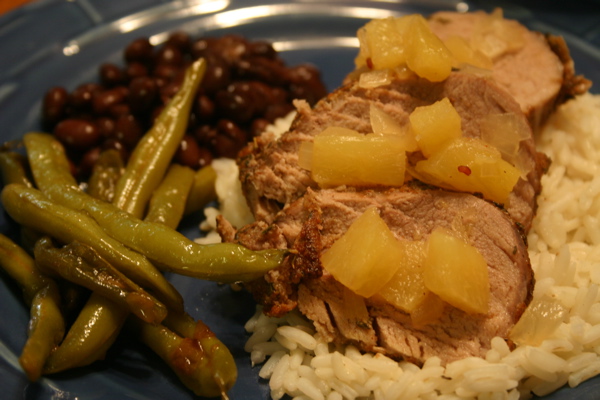 I found this recipe the other day as I was cleaning off my computer desktop. I am awful about seeing a recipe that I think looks like it might be good and then just saving the email or printing a pdf and storing it on my computer desktop. If I need some help with something, Jeffrey will open up my laptop and visually wince because the desktop is covered with tons of random icons for things I have saved but haven't put into place yet. Now that I am writing this post, I'm feeling guilty for getting on to my boys about all the treasures they have stored on their desk in their room. It drives me crazy when I walk in there and see such chaos. When I see that I normally begin telling them, "please clean this table off." I guess I will have to try to be more lenient now or else make sure my computer desktop is more organized. 🙂 Anyway, I digress. When I found the recipe for this pork and had all of the ingredients on hand, it came together as a quick meal. We all loved it and I basically had to pry it out of Jeffrey's hands so he could have leftovers for lunch.
I served it with some black beans, sautéed green beans fresh from the garden and rice (add cilantro if you like).
Jerk Pork Tenderloin with Pineapple Chutney
Jerk Seasoning:
1 tablespoon garlic powder
2 1/2 teaspoons kosher salt
2 teaspoons dried thyme
3/4 teaspoon cinnamon
1/4 teaspoon nutmeg
1/8 teaspoon allspice
dash of ginger
1 teaspoon ground red pepper
Combine all ingredients in a small bowl.  Place whatever rub you don't use in a zip top bag for the next time you make this dish!
Pork:
approximately 1 tablespoon olive oil
1 (1 1/4-pound) pork tenderloin (I usually buy the double pack of tenderloins from Costco and cook one of the packages which is 2 small tenderloins and then freeze the other package for later use.)
Jerk Seasoning
Pineapple Chutney:
1/2 cup finely chopped onion
2 cups finely chopped pineapple (I have done this with both canned tidbits in juice and fresh pineapple and it was delicious both ways.)
1 tablespoon dark brown sugar
1 tablespoon cider vinegar
1/8 teaspoon salt
dash of freshly ground black pepper
Preheat oven to 425°.
To prepare pork, heat oil in a large ovenproof skillet* over medium-high heat.  Rub pork with Jerk Seasoning. (I use at least half of the prepared mixture to get a good coating on the meat–feel free to use more or less to taste. ) Add pork to pan; cook 3-5 minutes, turning to brown on all sides. Place pan in oven; bake at 425 degrees for 25-35 minutes or until a thermometer registers 160 degrees (slightly pink). Let stand for 10 minutes before slicing to let the juices redistribute and for some holdover cooking.
To prepare chutney, heat a medium saucepan over medium-high heat. Coat pan with cooking spray. Add onion; cook 5 minutes or until lightly browned. Add pineapple and remaining ingredients. Cover, reduce heat, and simmer 15 minutes or until thickened, stirring occasionally. Serve over the pork.
*If you don't have an ovenproof skillet, use a regular skillet and then transfer to an oven safe dish.
Adapted from Cooking Light, January 2006