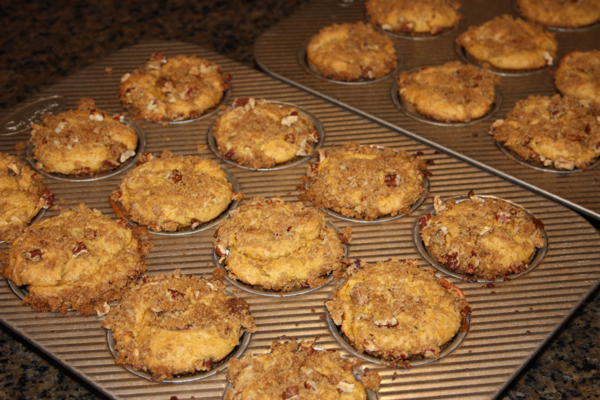 I know it has been forever since I have posted to the blog. Life has been so crazy, but I think we are finally settling in just in time for the holidays.
We moved on November 1st and I am now living in my dream house. I love it! There is room for all of us and our two crazy dogs and I finally have a kitchen big enough to hold all of my tools. It is amazing! I have so many cabinets and so much counter space that sometimes I don't even know what to do with myself.
I have finally gotten around to cooking on a regular basis and I'm loving cooking. A lot of our meals have been family favorites that I have already shared on the blog, but one of our first weekends in our house I made these muffins. They are scrumptious. (I know I already have several pumpkin muffins on the blog, but this is a great addition to the ones I already posted. Try them, and let me know what you think.) I made them with gluten free flour and the texture was a bit different and I liked them better after they cooled. By all means make these with regular flour and let me know your thoughts. I think these will be great on Thanksgiving morning as we are prepping our feast. (I stuck some in the freezer and didn't tell the boys.)
So now that I am settling in to my new place and finding my way around my kitchen what do you want me to share? I would love your suggestions.
Pumpkin Streusel Muffins
ingredients:
3/4 cup butter, softened
1 (8 oz.) package cream cheese, softened
1 cup granulated sugar
1 cup firmly packed brown sugar
2 large eggs
3 cups flour or gluten free flour
1 teaspoon pumpkin pie spice
1/2 teaspoon baking powder
1/2 teaspoon baking soda
1/2 teaspoon salt
1 1/2 cups canned pumpkin
1/2 cups chopped pecans
1/2 teaspoon vanilla
directions:
Preheat oven to 350 degrees. Beat butter and cream cheese at medium speed in a stand mixer until creamy. Gradually add sugars, beating until light and fluffy. Add eggs one at a time, beating just until blended after each addition.
Stir together flour, pumpkin pie spice, baking powder, baking soda, and salt. Gradually add to the butter mixture, beating at low speed. Stir in pumpkin, pecans and vanilla.
Spoon batter into 2 muffins pans lined with paper liners, filling two-thirds full. Sprinkle with Pumpkin Pie Streusel.
Bake for 25 minutes or until a toothpick inserted in the center comes out clean. Cool in pans for 5 minutes before serving.
Pumpkin Pie Streusel:
ingredients:
1/2 cup chopped pecans
1/2 cup firmly packed brown sugar
1 tablespoon flour or gluten free flour
1/4 teaspoon pumpkin pie spice
1 tablespoon melted butter
Stir together all ingredients until well combined and crumbly.
Adapted from Southern Living October 2013