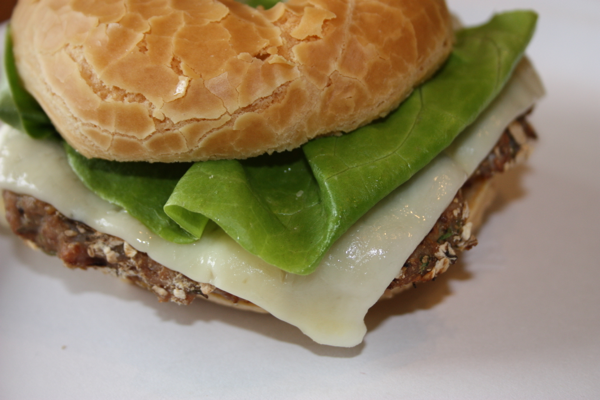 I saw this recipe last week on one of my favorite blogs and knew I had to give them a try. Fortunately, I had everything on hand so after church on Sunday we threw these on the grill. They were very flavorful and a nice change from beef burgers.
William and Tyler both really enjoyed them and thought they were quite delicious. One of our favorite restaurants in town is Blanc Burgers and Bottles and everyone agreed that this was a Blanc worthy burger. So if you are looking for a change from the same old burger give this a try.
Mushroom-Crusted Turkey Burgers
1 oz dried mushrooms
1/4 teaspoon kosher salt
1/8 teaspoon ground black pepper
1 1/4 lbs ground turkey
1 scallion, minced
2 tablespoons minced fresh parsley
1 teaspoon Dijon mustard
1 teaspoon Worcestershire sauce
2 tablespoon oil
4 slices Havarti cheese
4 buns, split
In the bowl of a food processor, grind the dried mushrooms until they are a coarse powder. Reserve 2 teaspoons of the powder, and transfer the rest to a shallow bowl or pie plate and mix in the salt and pepper.
In a large bowl, combine the turkey, reserved mushroom powder, scallion, parsley, mustard, and worcestershire sauce. Season with salt and pepper to taste. Form into 4 equal-sized patties.
Preheat the grill or alternatively a large skillet over medium heat. Oil the grates of the grill or skillet depending on your cooking method.
Working one burger at a time, coat the outside with the mushroom powder, pressing lightly to adhere.
Cook the burgers 4-5 minuts per side, or until the meat is cooked through. Add the cheese for the last minute or two, and continue cooking until it has melted.
Toast the buns and serve the burgers topped with lettuce or toppings of your choice.
Adapted from Pink Parsley