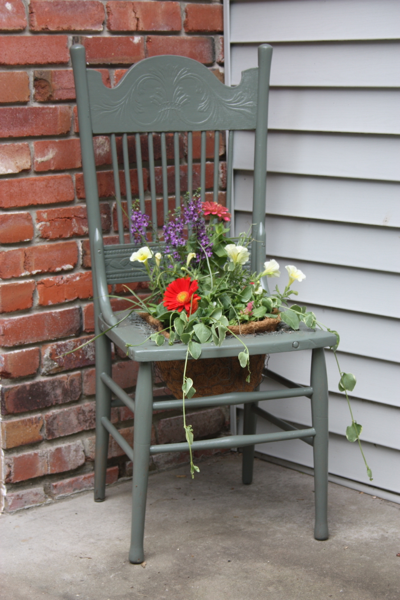 The past couple of days Jeffrey and I have been working on the exterior of our house. It is amazing what a little bit of paint can do. In the process of painting the door and trim I also put together this chair planter.
I have wanted to make a chair planter for quite sometime. (I think I first saw this project in a Southern Living magazine 8 years ago.) My neighbor (who frequents garage sales) found a great chair for me about a month ago and I knew it was finally time. The wicker bottom of the chair was already broken which was fine by me since I didn't want a bottom in the chair anyway. The chair only cost $10 which made this project very affordable.
I already had some chicken wire at the house and the only thing I needed to purchase after finding the chair the peat moss I used to line the chair and the plants for my planter. I painted the chair to match our front door and it looks great sitting in the corner by the door. If you are looking for a unique planter and a fun weekend project, this one left me feeling quite accomplished and it also brightened up our front entry.