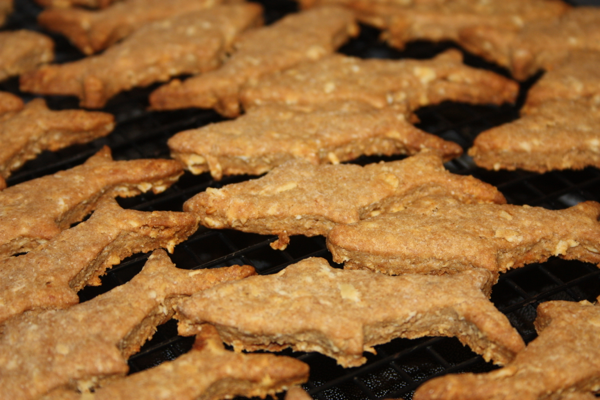 Sunday marked the anniversary of bringing our sweet Nani home. For the past week, I had been trying to figure out what special treat to give to our Nani-girl for her adoption anniversary. I finally decided that I needed to make her homemade treats because every other family member would receive a treat of their choice, so why shouldn't she? She was a fan of the treats and I think she even knew while we were making them that they were for her. She was in the kitchen along with the rest of us anticipating the deliciousness made with love just for her.
Nani has come along way from the first day we brought her home. When we went to visit her at her foster mom Kim's house, we weren't even sure if she would come home with us. She had lived a rough life before being rescued by the Midwest Boxer Rescue and was leery of people to say the least. Although she was cautious of us at first, she did come around and snuggled on the couch with the boys. She eventually jumped in the car with us and was headed for her new home.
It took her a bit to decide that we were truly her new family, but she received lots of love and encouragement as she adjusted. She has come leaps and bounds since we first brought her home. It is hard to believe she is the same dog from one year ago. She has gained lots of confidence in the last year. She now greets visitors at the door and occasionally even gives them a bark if she isn't sure if they should be at our house instead of hiding out on the couch. She has decided she would much rather snuggle next to her people then sit by herself and she goes bonkers when it is time to go for a walk.
Nani has truly dug a place in each of our hearts and I think we might have just won her over as well. She is a great dog and we are so appreciative of Midwest Boxer Rescues for fostering her until we found her.
Peanut Butter Dog Treats
Yield: 60-100 (depending on the size of your cookie cutter)
Ingredients:
1 1/2 cups rolled oats
1/3 cup butter
1 1/4 cup boiling water
1 teaspoon beef or chicken stock granules or cube
1 ripe banana
1 cup peanut butter
1 egg
2 cups whole wheat flour
Directions:
Preheat oven to 330 degrees and line 2 baking sheets with parchment or silicone baking mats.
In a large bowl, combine the rolled oats, butter, beef bouillon granules, and boiling water. Let stand for 10 minutes. Add banana, peanut butter and egg and stir until well combined. Mix in the flour and stir until a stiff dough forms.
Knead the dough on a lightly floured surface, adding, more flour as needed until the dough is smooth and no longer sticky. Roll or pat out dough until it is about 1/4 inch thick. Cut with cookie cutters or knife and place on the prepared cookie sheets.
Bake for about 35 minutes or until golden brown. Cool before serving.