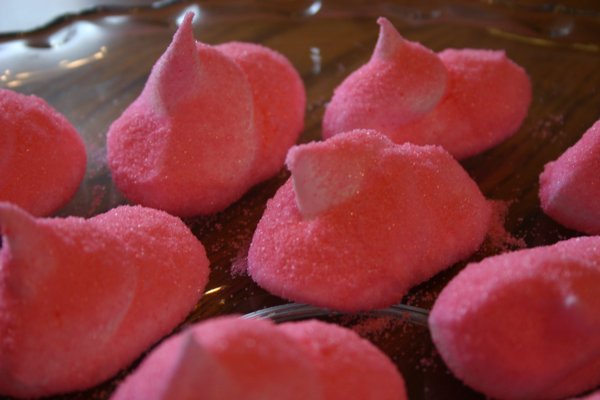 My mother loved, loved, loved Peeps. She could easily devour an entire package of them in just one sitting. While I did not share her love for them, I still purchase a package at Easter-time for the nostalgia of it and also because I know if my Mom was still around she would make sure William and Tyler received them in their Easter baskets.
When I found a recipe for a homemade version, I thought it would be a great activity to do with Tyler (who seems to enjoy them almost as much as Mom) and then post about making them in honor of mom on her birthday and my 100th post (I can't believe I have already posted over 100 recipes). Plans changed with our trip to Nashville so better late than never, Tyler and I set out to make them this week. We had a blast!
We enjoyed coloring our own sugar for the coating, and Tyler really enjoyed watching the marshmallow mixture come together. He was amazed that all it took was 3 ingredients. It does take some time because you have to pipe each one and coat it with sugar before moving on to the next. It was still lots of fun and after making them I am sure I will be experimenting more with marshmallows in the future. I can see homemade marshmallows and homemade hot chocolate as Christmas gifts in the future.
Speaking of gifts…In celebration of my birthday coming up next week, I am giving away a set of Silicon baking liners. These were an excellent tool for making these Peeps but they also are very useful in other adventures in the kitchen. I honestly don't know what I would do without mine. To enter please leave a comment telling me your favorite Easter treat or favorite birthday cake. I can't wait to hear your comments!
The Rules: Up to 3 entries per person, will ship to U.S. residents only. Commenting (collecting entries) will close on Tuesday, April 12th at 10:00 am, EST. One winner will be chosen at random and announced on Wednesday, April 13th. Good luck!
The three ways to enter:
First, please leave a comment on this post telling me your favorite Easter treat or Birthday cake/goody.
Second, you can enter by subscribing to the Dinah's Dishes updates by email. After you have subscribed, add a comment that indicates you have done so. (If you already get email updates just let me know in a comment.)
Third, share this post by Facebook or Twitter and then add a comment indicating you shared it.
Marshmallow Peeps
Printer Friendly Recipe
Yield about 24 (depending on size)
Ingredients:
1 unflavored gelatin packet (2 1/2 teaspoons)
⅓ cup cold water, for gelatin
¼ cup cold water for making sugar syrup
1 cup granulated sugar for making sugar syrup
1 cup sugar and food coloring or colored sugar (if you want your marshmallows to be coated in colored sugar)
Directions:
Before you get started making the marshmallow mixture set up your sugaring station for coating the marshmallow. I used 1 cup of sugar colored pink but if you want an additional color use ½ cup per color in a shallow bowl. *You can used pre-made colored sugar or add a drop of gel food coloring with sugar in a resealable bag squishing it around until you get the desired color and the coloring has been absorbed by the sugar. Tyler thought this was lots of fun!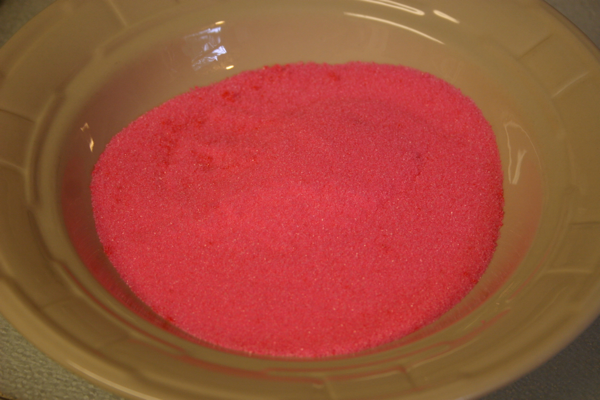 Pour 1/3 cup of cool water into the bowl of a stand mixer and sprinkle gelatin over it. Let stand. Meanwhile combine 1/4 cup water and 1 cup sugar in a small saucepan and cook over medium high heat, stirring regularly. Continue to cook until the mixture reaches a temperature of 238 degrees (soft ball stage for candy). I used a thermometer. It took aproximately 2 minutes once it came to a rapid boil. (I would advise using the thermometer for accuracy.)
Once the syrup has reached the correct temperature, stir it a couple of times to allow it to cool a bit. Then pour the sugar syrup into the gelatin mixture and beat on medium high until the mixture forms stiff peaks. You will know it is ready when the mixture holds its shape when the beater is removed. It took me about 12 minutes but you can begin checking every few minutes after at least 8 minutes to see if stiff peaks hold their shapes when the beater is removed.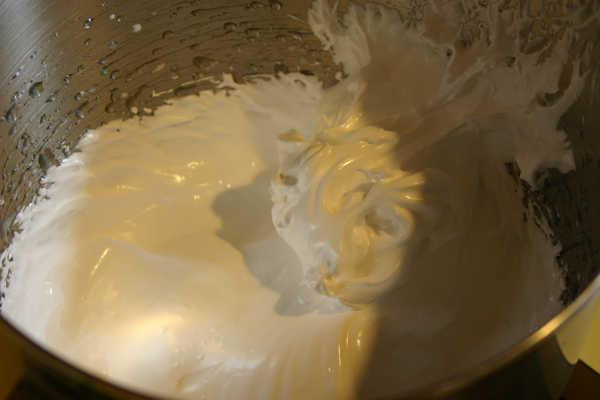 Now put the marshmallow into a big gallon ziploc bag, cut off a small corner and pipe out shapes onto the sugar you set up earlier. Pipe out one shape at a time and coat it with sugar before starting on your next shape. Once you have your marshmallow shape, spoon sugar over the top making sure you get a good coating on the marshmallow. Now using a fork, gently slip the fork under the marshmallow lifting it and shaking off any excess sugar. Place the Peep onto a lined cookie sheet. (I lined mine with a silpat to insure it wouldn't stick.) Martha Stewart has a tutorial on piping intricate shapes, but I just did my own thing. Continue piping and sugaring until you use all of your marshmallow mixture.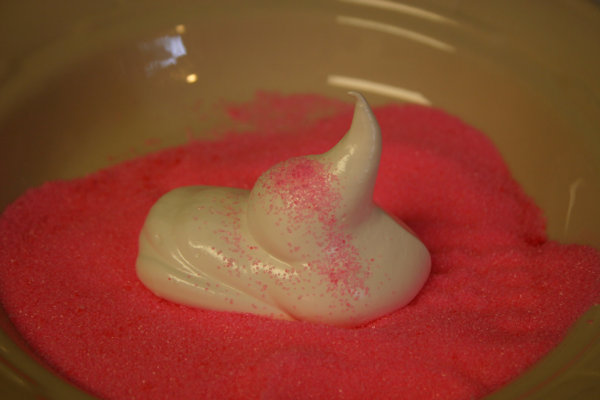 You can eat them right away but they are super soft. I let mine sit on the counter to firm up before storing them.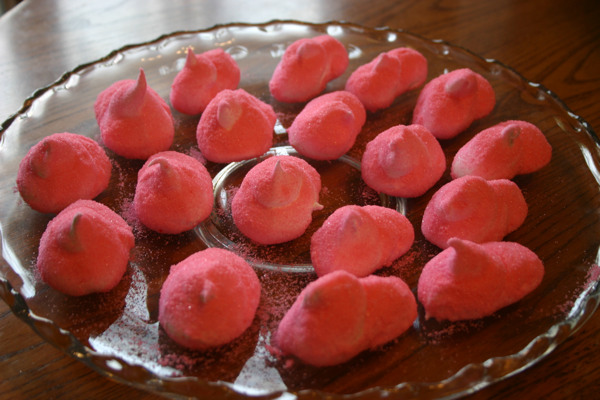 Adapted from Martha Stewart.