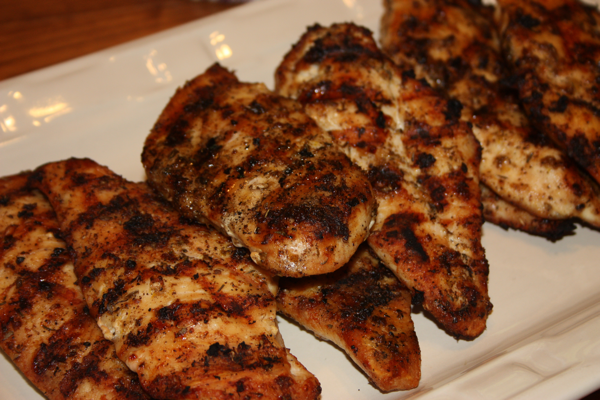 The heat wave that has been gripping the Midwest seems to be breaking at last.  The other night, the temperature finally cooled off enough for me to grill chicken. I had not been expecting it to be cool enough to grill so I had not marinated my chicken in my favorite marinade. I still felt like having grilled chicken when I remembered a recipe I had used from Cooking Light several years ago. The chicken has amazing flavor and I didn't have to worry about waiting for it to marinate.
We had invited friends over for dinner so I thought chicken would be an excellent option. It turned out delicious, and it was well-received and worked well with our sides of veggies and mac and cheese (new recipe to come soon!).
Chicken prepared in this way is extremely versatile and would go well with just about anything. While it was delicious with our mac and cheese, it would also be excellent sliced on top of some greens as a nice protein addition to your salad. It could even be turned into an excellent chicken sandwich. I have also thought of going a little more "Italian" and bring out the oregano and use it with some excellent pasta dishes.
The greatest thing about this chicken is that it comes together so quickly and doesn't require time to marinate. I think you will love the refreshing flavor the lemon brings to the chicken. What do you make that you can use lots of different ways?
Lemon and Oregano Rubbed Grilled Chicken
Printer Friendly Recipe
Ingredients:
4 boneless, skinless chicken breasts
5 teaspoons grated lemon rind
1 tablespoon olive oil
1 1/2 teaspoons dried oregano
3/4 teaspoon kosher salt
1/2 teaspoon black pepper
2 cloves garlic, minced
Directions:
Combine lemon rind, olive oil, oregano, salt, pepper, and garlic together in a small bowl. Generously coat both sides of chicken breasts using all of your rub. Grill on low heat until chicken is cooked through. If desired, squeeze a lemon wedge over the cooked chicken before serving.