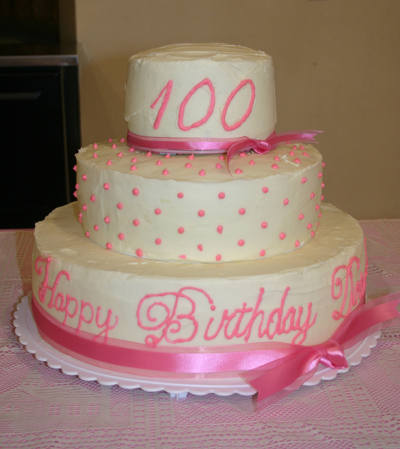 For those of you who follow me on facebook or twitter, you heard about my baking marathon last week. I was honored to make the birthday cake for a fine lady at my church who celebrates her 100th birthday today. We celebrated early on Saturday, but today is her official birthday so I thought it was appropriate to post this fantastic recipe today in honor of her birthday. Happy Birthday Dorothy!
When I received the call asking if I would make the cake for the 100th birthday party, I was honored. At the same time, I told them I was not a cake decorator. They assured me that I would do a great job and they knew the cake would be delicious. I said "yes" to the project. I don't think I really understood the enormous nature of the task. (That is not uncommon for me.) Fortunately, I always have friends and family who are able to lend a helping hand.
So, Megan and Ashley, thank you! You really helped me stay on task and keep those cupcakes coming. Jeffrey, you were such a great encourager as well as the cake carrier. (Do you know how heavy a double layer of 14 inch cakes are?) All and all it was a great experience and one that I was honored to help honor a great lady. How many people do you know that make it to 100?
So onto the cake… This cake has become a favorite for dinner parties where I cater and folks frequently request it. More than that, it is definitely a favorite at our house. The combination of the spice in the cake with the smooth creamy frosting is out of this world. You simply will not find a better carrot cake recipe!
Normally, when I cook something in extreme quantities (I made enough cake to make 9 regular cakes and shredded 13 pounds of carrots) I am sick of it well before it is out of my house. I can honestly say that I was enjoying the extras and was disappointed when we ran out of cake. It is that good.
I hope you enjoy this recipe as much as we do (and the 150+ guests at Dorothy's birthday party did.)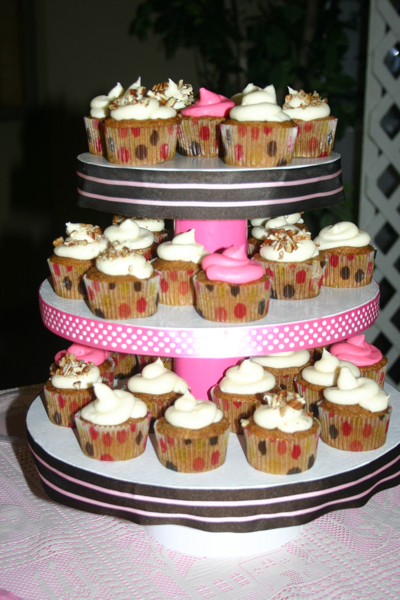 Carrot Cake with Cream Cheese Frosting
Ingredients:
1 1/2 cups cooking oil (I use Canola.)
2 cups sugar
4 eggs
1 teaspoon vanilla
2 cups flour
2 teaspoons baking soda
2 teaspoons cinnamon
1/4 teaspoon salt
3 cups finely grated carrots (I grate mine in a food processor.)
Directions:
Preheat oven to 325 degrees. Scrape and grate the carrots; set aside. Combine sugar, oil, eggs, and vanilla in the bowl of a stand mixer, mixing until the ingredients are well combined. Add dry ingredients, mixing until they are well incorporated. Stir in the grated carrots. Pour batter into 2 well greased 9-inch cake pans. Bake 40-50 minutes (or until a toothpick comes out clean). You may want to start checking around 35 minutes depending on how quickly your oven cooks. Cool in pan on cooling rack for 10 minutes before removing from pans. When cake is cool, frost with Cream Cheese Frosting. Store in the refrigerator. (This cake will keep for several days if it is well covered.)
Cream Cheese Frosting
Ingredients:
1 – 8 ounce package cream cheese, softened
3/4 cup butter, softened
2 2/3 cups powdered sugar
1 teaspoon vanilla
chopped pecans (optional)
Directions:
Beat cream cheese and butter together until they are smooth and without lumps. Add powdered sugar and vanilla and mix until well incorporated. You may need to scrape the bowl a couple of times to insure that everything is mixed well. Frost cake. Sprinkle pecans on top (if desired).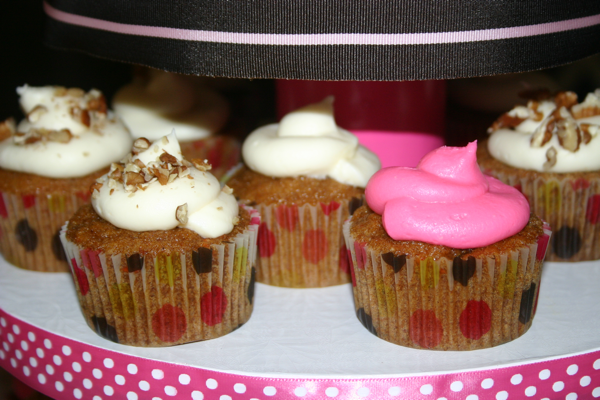 Recipe adapted from family friend Linda King.